(
I may receive commissions from the links in this post. For more informations read my Disclosure.
)
This was the question I had to face lately.
How can I build a blog to be proud of, how can you?
First: Goodbye
Don't get me wrong. I won't stop doing this blog now. 😉 And you either, will you?
I say Goodbye today first because you will leave, not me 🙂
Because it is very likely that you will continue on one of the other sites learning for a while when you skim through the resources here.
Which is good! You should!
Anyway I recommend to have a thorough look at each of them.
Why Goodbye? Because if you've liked this content, you'll definitely come back. 😉
Let's move beyond those words and get straight into business.
Questions that Arise
What do you need to create a recognizable blog?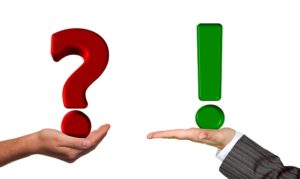 To answer this question I've collected some of the most valuable sources I've found the last 14 months for you.
Creating a unique blog, this doesn't come easy.
We'll start with the headline.
But: we need a cooking recipe to get this done.
Fortunately, the work is almost already accomplished.
The formula exists.
The headline can be created.
Only one thing is missing: The formula itself!
Ok, let's dive deeper. What do we need to create
What you've missed out on – Attractive Headlines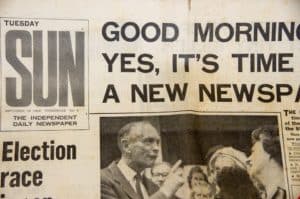 If we're honest, we can have the best articles ever which will never be read when our headlines don't draw any attention.
Let's reveal the secret of the recipe:
CopyBlogger has awesome resources about creating content and magnetize its readers.
When I start reading there sometimes I need to pull myself off the text. 😉
For example:
Headlines that are built like a command/make curious/are seemingly unveil secrets.
Become a famous youtube star in 60 days.
11 Things you Should Do to Create Better Blog Posts
Number 3 is a must!
Little Known Ways to Grow Your Blog 30% Today
Two further online blog spots are HubSpot and Moz.
Watch out for HubSpot's:  "How to Write Better Headlines."
The infographic there will even assist you further making the examples crystal clear.
Make it Gold – Value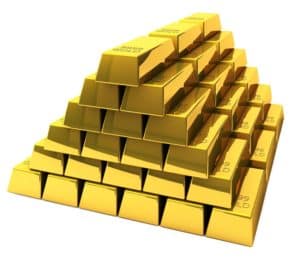 But what is "value"? I used that word a lot on my blog here, too.
Value is a mixture of what our audience wants, the unique advice, tidbits or perspective we have to offer.
All residing in one stunning article.
And know, I don't yet how an amazing piece of content looks in my style. Do you already know in your style?
But I definitely know what a masterpiece looks like that caught my attention, so do you!
Know we know WHAT we have to ask WHY do the articles catch our attention?
Before I mentioned "CopyBlogger" which is all about:
Copywriting
Quote from CopyBlogger:
Copywriting is one of the most essential elements of effective online marketing.
Copywriting is the art and science of strategically delivering words (whether written or spoken) that get people to take some form of action. Copywriters are some of the highest-paid writers in the world.
Now we know it's no coincidence that we read some blogs and others we skim through and off we go.
Become Famous – Market Yourself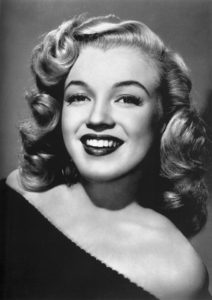 Which in turn means as well to market your blog. Without readers, it's like a tree falling down in the woods. Who cares?
But how? There are so many tools, articles, videos you get easily overwhelmed and discouraged.
This article is going to help you.
The most precise and complete things I've found to market your content are on:
The guides contain:
When you're stumbling upon Quicksprout have to STOP here:
The Advanced Guide to Content Marketing
I barely read any other comparable article that has torrents of tips, insights and tidbits layout in clearly repeatable
steps to tilt your downward spiral definitely into an upwards one. Don't miss out.
This is one of the things you have to read if you want to build a million dollar business.
Get Your MBA
promises Neil Patel.
Another must read from the same creative thought factory:
Get Your MBA in Content Marketing with these 15 guides.
This will be a list that will make you busy for months. It's definitely like going to Harvard to learn online marketing.
Intensive. Full. Exhaustive.
It contains:
Beginners Guide to Content Marketing (Moz)
The Advanced Guide to Content Marketing – link is here in the article as well (Neil Patel)
Practical Guide to building a killer content strategy (Hubspot)
The Beginner's Guide to Content Marketing (Kissmetrics)
The Definitive Guide to Engaging Content Marketing (Marketo)
Content Marketing Made Easy: A Step by Step Guide (Neil Patel)
Content Marketing Toolkit: 23 Checklists, Templates, and Guides (Content Marketing Institute)
7 Steps to Success Content Marketing Strategy Guide (Smart Insights)
What Works in Content Marketing by SEJ Weißbuch (Search Engine Journal)
A SEO Driven Approach To Content Marketing – The Complete Guide (Coschedule)
Content Marketing Guide:
How 10 Startups Became Thought Leaders & Generated Massive Revenue Growth
(Small Business Ideas Blog)
The Only Guide to Content Marketing You'll Ever Need [Complete Resource Page w/ Links] (Contentfac)
Visual Content Marketing: A Resource Guide for Marketers (Social Media Examiner)
A Complete Guide to Content Marketing Trends [Infographic] (Social Media Today)
Content Marketing Strategy Checklist (Velocity Partners)
Moz has excellent analyzing qualities to give you some of the most obvious issues
Reliablesoft has made an awesome SEO Guide which you might check out.
I admit I bought it without considering a review first because it was only 19$.
What I didn't know this also includes updates, meaning if Alex refines/updates the PDF
you'll be provided with a newer version. That's damn sexy.
That's just my opinion. Evaluate yourself.
Find – Digital Forensic
A decade ago it was still pretty easy to find action rich and value-rich information. Sure, because not that many people were online yet.
That massively changed since the internet is virtually accessible for everyone. Now to find means to filter.
We'll find a lot of the same topic. No worries. But which of the content is really applicable? Real?
Where can we act on it? How do we find good golden content? As far as I am concerned this is something you have to learn.
You have to really see and feel if content stands out. How do you know?
It's very usable content distilled to perfection. You can act on it immediately.
Or if it is a long-term strategy article or video the steps will be clearly laid out.
No doubt and issue will be left out that might come up.
But if you still have a question you can contact the author directly per mail or write a comment.
It's valuable to learn the Google commands, it does not only know plain words.
It can do much more for you.
Use Google Trends for example to see how interests change.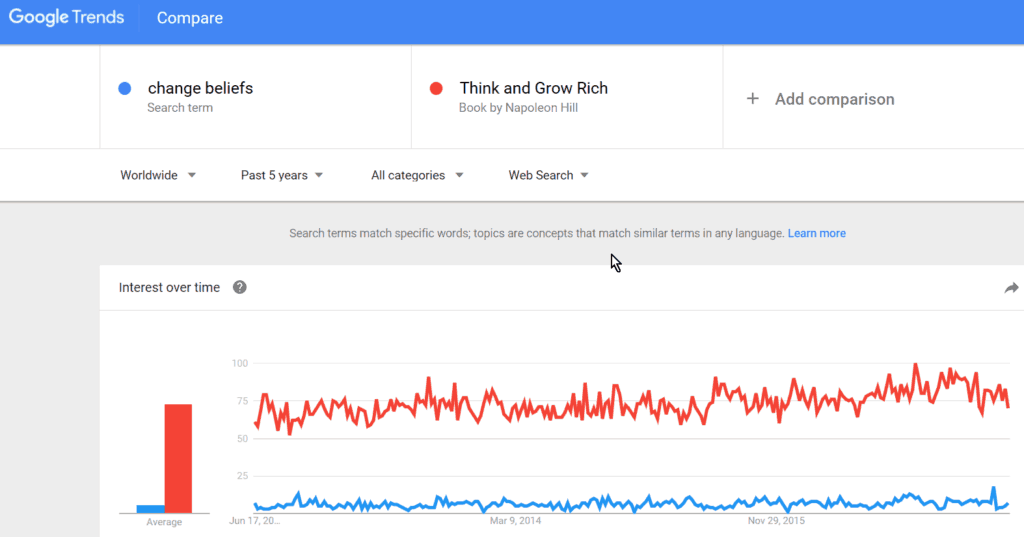 Looks like people are more interested in getting rich than changing their beliefs.
And especially if you know the words you're searching for but don't know the pages:
Stay Alert – use Google Alerts to be notified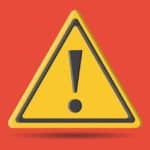 What almost no one seems to do:
You can use Google Alerts to
Monitor the Web for interesting new content
like Google states. Also they are very time saving.
For example, I use the following useful alerts:
inurl:holbizmetrics.de
site:holbizmetrics.de
holbizmetrics.de -inurl:holbizmetrics.de
I use the 1st one (inurl:holbizmetrics.de) to get notified if someone links to my page or it is indexed somewhere, let's say it's more like a basic notifier.
The formula is just: inurl:yourdomainname.
The second one (site:holbizmetrics.de) I use to get notified if google indexed my page.
It's basically: site:yourdomainname.
This one (holbizmetrics.de -inurl:holbizmetrics.de) I use to see if someone else or something else does something with my site I wanna know about:
It works due to the formula:
yourdomainname -inurl:yourdomainname.
If you wanna know even more about google alerts now and how to make your site benefit get the ninja guide to Google alerts which might come in handy, written by Matthew Woodwards.
Analyze – Become a Scientist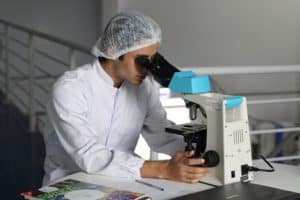 Google Analytics we all know. If not, have a look below where I've compiled some seductive stats in my dashboard to provide you with: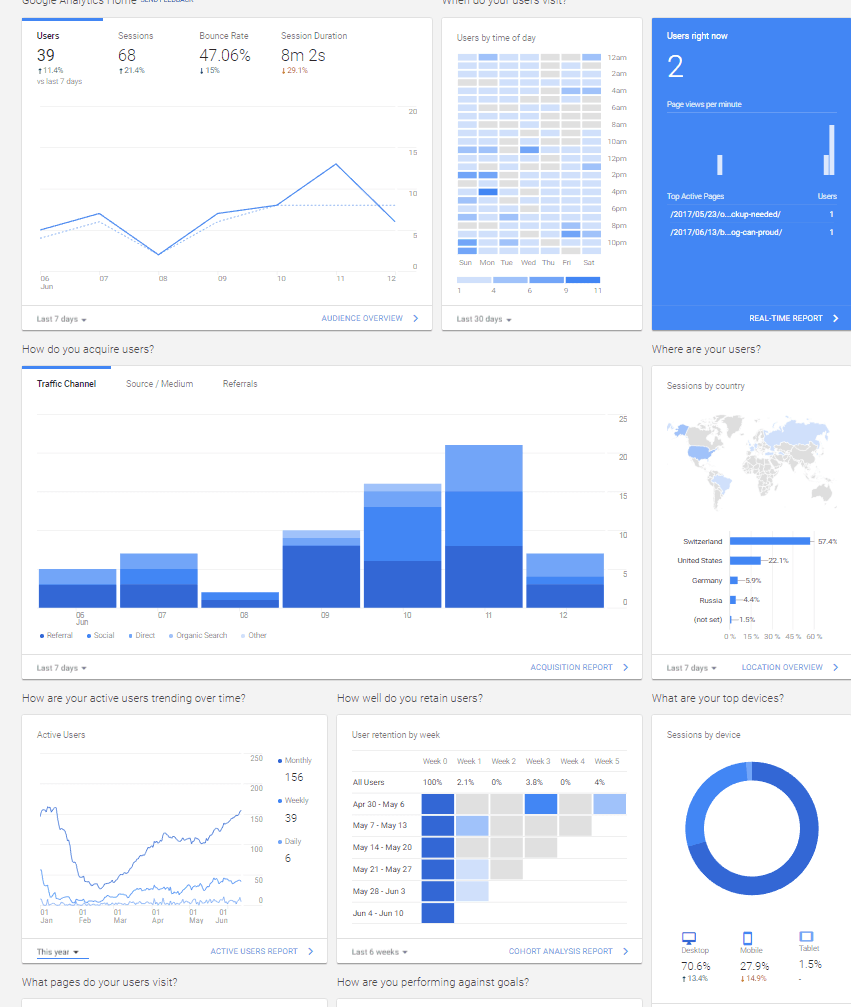 Here you can definitely see after my blog launch – still being pretty new – the user engagement was drowning to zero.
First I didn't find out. But then it got clearer and clearer. It's a series of some factors at play at the same time, that caused this kind of trouble. I overlooked it gently. Because I thought: Not important. Deadly mistake, in terms of traffic building.
Now I care a lot more, that's also why I registered for a free SEMRush* account that delivers a monthly audit for my site.
But even Google Search Console (former name: Goole Webmaster Tools) is unknown to some people, nevertheless, it is one of the most important tools.
OK. Using Semrush* for example to get a monthly report:
Let me show you mine and uncover something you and me would not have expected
(at least if it's your first time using it):
The first graphic just shows the social engagement,
which I tried to drive to higher marks, but seemed to fail miserably yet.
No worries, we're all starting out. Learning. Tweaking. Cleanse and repeat…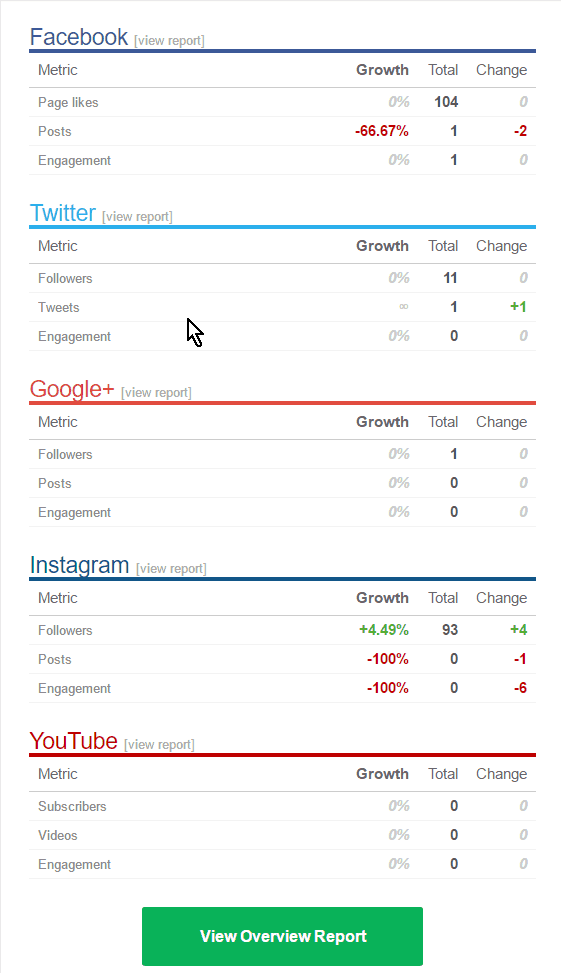 This unveils everything. Even the things I don't wanna know right now. 😉
It shows exactly what impact had the things I did. Or I didn't do.
Do you even Post, bro?
Like writing blog posts.
More though: Let's have a look at the site audit, which rubs everything you did wrong viciously into your face.
This is good, though sometimes painful. Because the computer can do an emotionless sober report about
your overall site performance. Good to get real numbers. Bad for your mood at times. 😉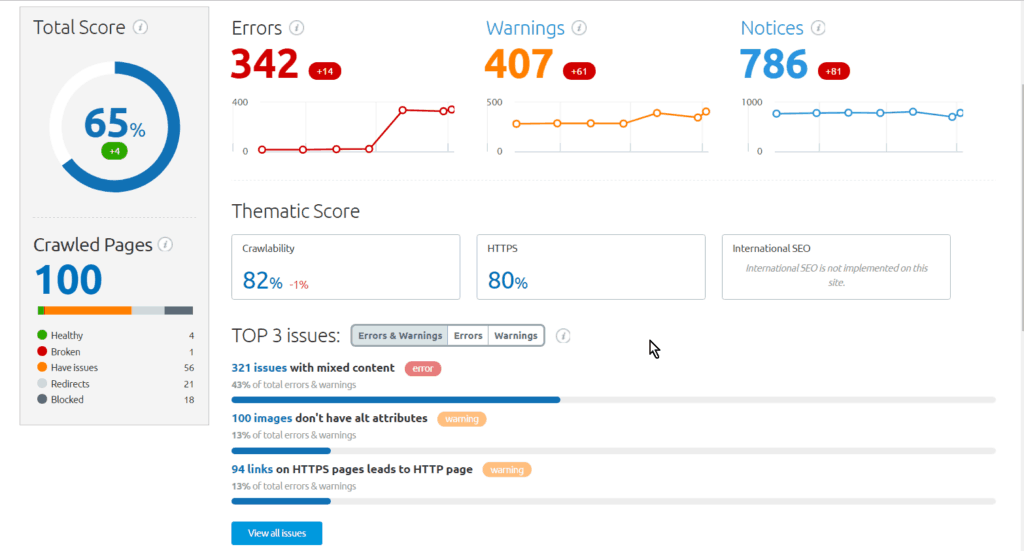 Oh Shit! So many errors and mistakes again.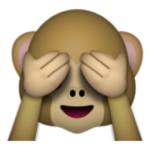 My lack of consistency this and last month will definitely bring us to the next point again:
Especially an editorial calendar.
Why? You will know in a second.
Refine – Hone it down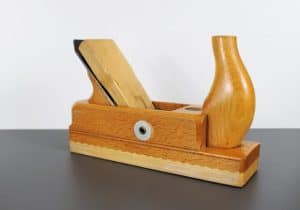 Learn from your mistakes and/or what doesn't perform well. For example, if people go to your about page and then bounce off the page,
this might be a place to:
Analyze user flow and behavior
Insert Links
Rework the content
Sherice Jacob gives you an article to
named:
The Blog Editor's Cheat Sheet: What to Do Before, During and After Your Post Goes Live
Where he even advises you to use the editor calendar plugin for WordPress.
What do they tell about it there?
Did you remember to write a post for next Tuesday? What about the Tuesday after that? WordPress doesn't make it easy to see when your posts are scheduled. The editorial calendar gives you an overview of your blog and when each post will be published. You can drag and drop to move posts, edit posts right in the calendar, and manage your entire blog.
Ok, so I will install the Editorial Calendar Plugin and activate right now:

Oh my. This definitely makes sense. We all sometimes have a hard time to remember the date for the next post. Or we think we got two days left, because we've actually confused the date.
Especially when we are on vacation or just back from vacation. Consistency is like blood being pumped through your veins.
Let's find the Calendar
Ok, installation is done. Can't seem to find it or wait… is it now replacing the actual publishing date?
Oh! I've found it, now it resides – at least in my account – at the left, bottom most menu item in the post section: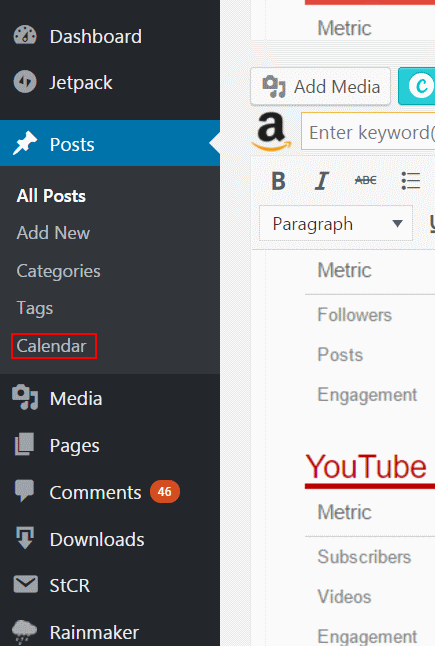 Locate the calendar item in your WordPress Dashboard as well.
Click the icon and… here you are: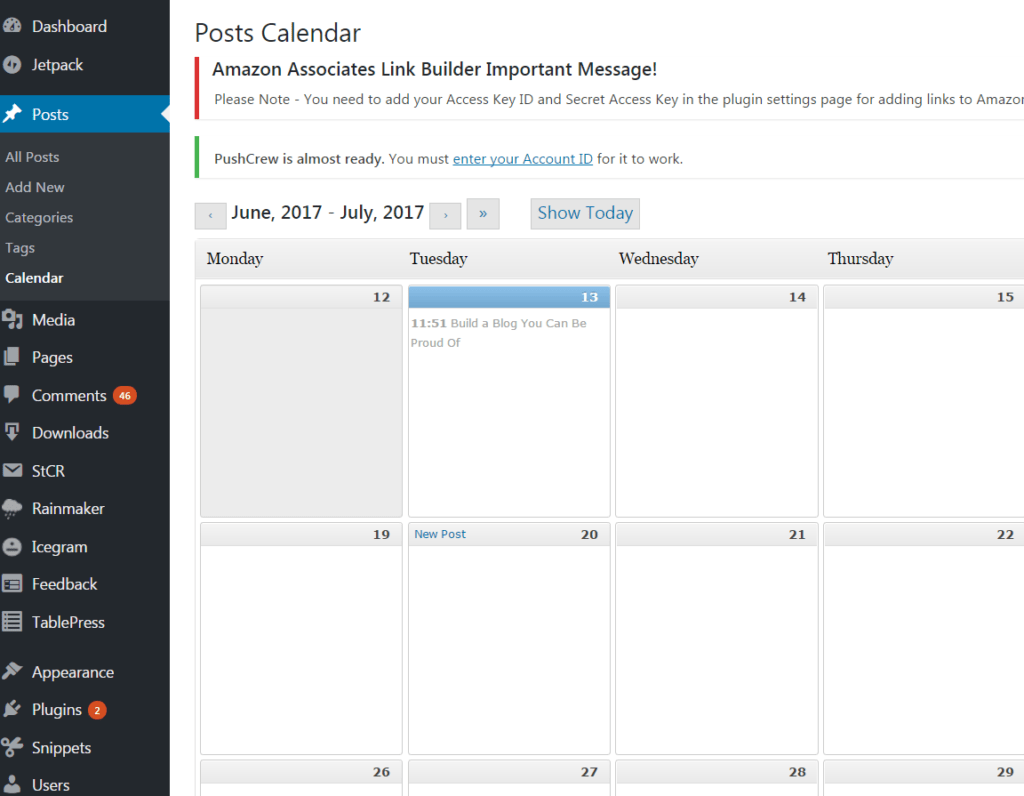 Learn – Gain your wisdom
Learn means to reflect on your errors, collect new knowledge, gain new insights and epiphanies.
Here some books come in handy overall Stephen Covey's: 7 Habits of Highly Effective People*.
Make notes for example in Evernote. Here personal development is a must if you want to have longterm success.
Tools – Shape the form of your Blog
Grow your Ideas, which I've mentioned throughout the blog means here:
You have to learn how to come up with good and creative content all the time.
At least when the next interval has gone by. Time to put out new content.
"Oh, Shit! Got no creative idea yet."
We've all been there, right? At least if we run our blog for some time, a couple of months or so.
And now I could philosophize about what would be great. For your blog. Does it help you? No.
From some of the greatest content marketers I've learned this:
use
what better way could exist to see how a certain site changed throughout time?
Which offers you the perfect back to the future approach to appealing content marketing.
Way Back Machine is like a time machine, you can see what a site looked like at a certain date,
at least if a record of that time and page does exist.
When I'm done changing my site to the better, I will write a review about Making Sense of Affiliate Marketing course
Which doesn't make so much sense yet on my site. But I'll definitely get there. Watch out. 😉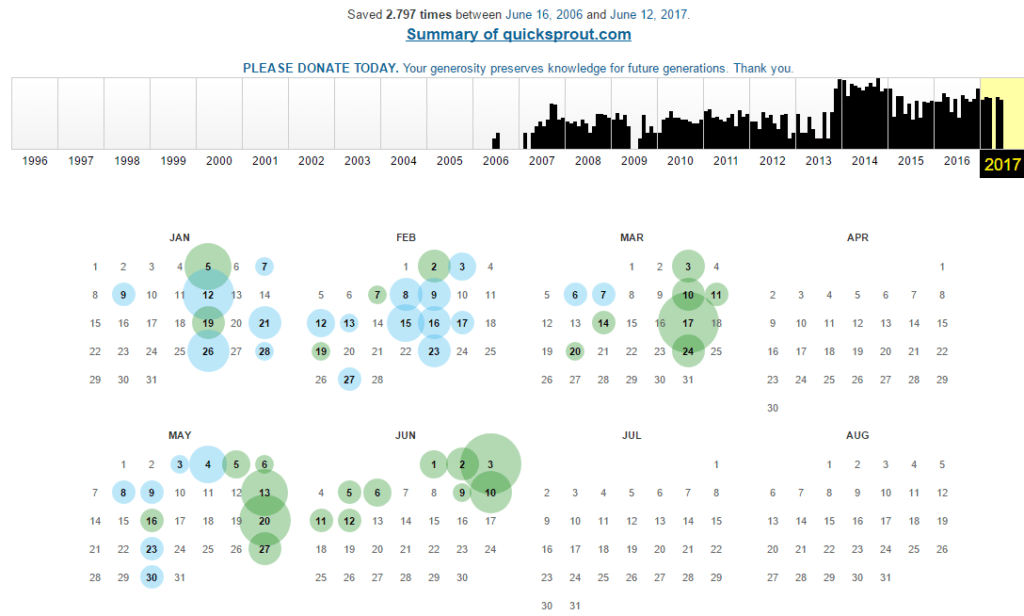 Imitate – Your best Impressions
Don't copy but imitate what others do. This means to find out what they do, then do the same thing.
Don't use their material. Use their strategy. like a freeloader. Is this correct English? Because in German we would say: "Trittbrettfahrer".
For example, use the same plugins or link to the same competitor.
Use builtwith to literally spy on your competitors to see what they use to build their sites.
Then you can use the same plugins or ad networks to increase your success.
Here's an excerpt of what my site looks like: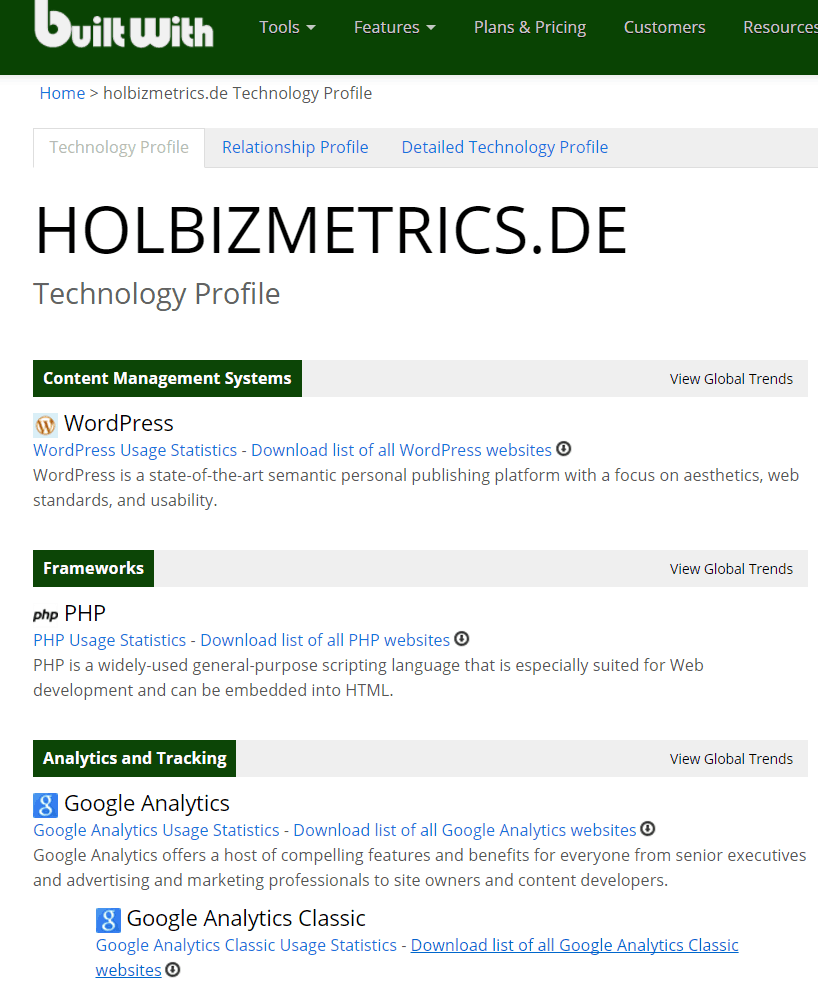 The relationship tab is not important because my site is still pretty new.
The detailed report is not useful at the moment if you don't intend to register for free.
But you can already see that this page uses PHP and Google Analytics and is built on WordPress.
Wouldn't it be neat if we could see the plugins our competitors use as well?
Yes, we can! The graphic below shows that I am using TablePress, love it to make tables.
Still has it flaws but it's lot better than the default. I also use SumoMe to built my email list.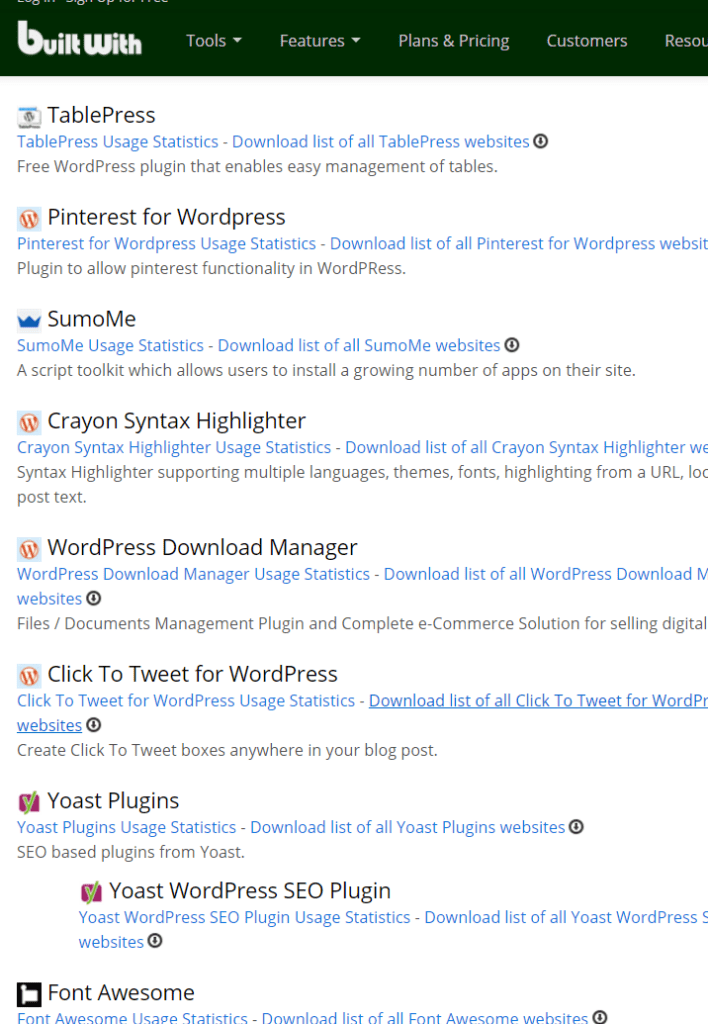 This is not only useful to know what plugins you're actually using,
use it to spy on your competitors and see for example which ad networks
are using.
Just click the links above to find out.
Let's finish here for now.
Get those resources and post here what they helped you doing.
Get ready for your succes.
Have a nice day. 🙂
___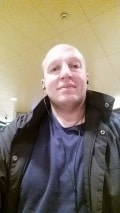 Subscribe To Our Newsletter (3)
Join our mailing list to receive the latest news and updates from our team.