(
I may receive commissions from the links in this post. For more informations read my Disclosure.
)
What do we deal with a lot?
Dealing With Graphics
So what about if we could
get Photoshop for free.
Can we?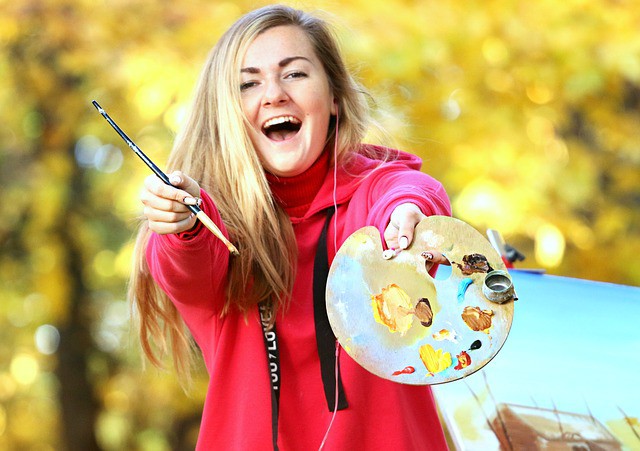 Being a blogger you for sure might deal with creating or changing some graphics daily.
So what could be better than getting one of the best pieces of software for free? Legally?
Sometimes it can be a pain if we have no good graphics processor at hand.
So this opportunity to get Photoshop CS2 legally is very welcome.
Sidenote: What now has changed a little bit in the blog is:
Before I wanted to offer good content. Which I did as good as I could in my opinion.
Now I try another approach: If I advice a problem myself and can come up with a pretty good solution,
I present it to you.
Hint: By the way, if you're still struggling editing with WordPress, you might read on here:
Eliminate your Flow Bottlenecks in WordPress
Yes, read on:
Adobe offers this online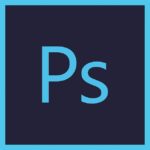 Adobe has disabled the activation server for CS2 products, including Acrobat 7, because of a technical issue.

These products were released more than seven years ago and do not run on many modern operating systems; Adobe no longer supports them.

Adobe strongly advises against running unsupported and outdated software.

Only customers who legitimately purchased CS2 or Acrobat 7 and need to maintain their current use of these products may use the serial numbers provided during the download.
So they're giving away those products for free now.
Yes. They're older but legal now. And for free. So let's give it a try.
Let's get it. Download.
So I'll give it a try right now, let's see if I can get it to work on my Windows 10 computer.
The files you need to download are found here:
Download PhotoShop CS2 (Windows)
Download PhotoShop CS2 (Mac)
Note: It's possible that you might need to create an Adobe ID to be able to register.
If so, just follow the instructions when you're presented with the following screen: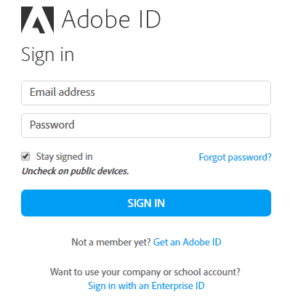 I've included the Installation Manual to make it easier as well.
Engineering and Architectural Workflows for Photoshop CS2
Adobe Photoshop CS2 Scripting Guide
if you'd like to get other downloads you might have a look here: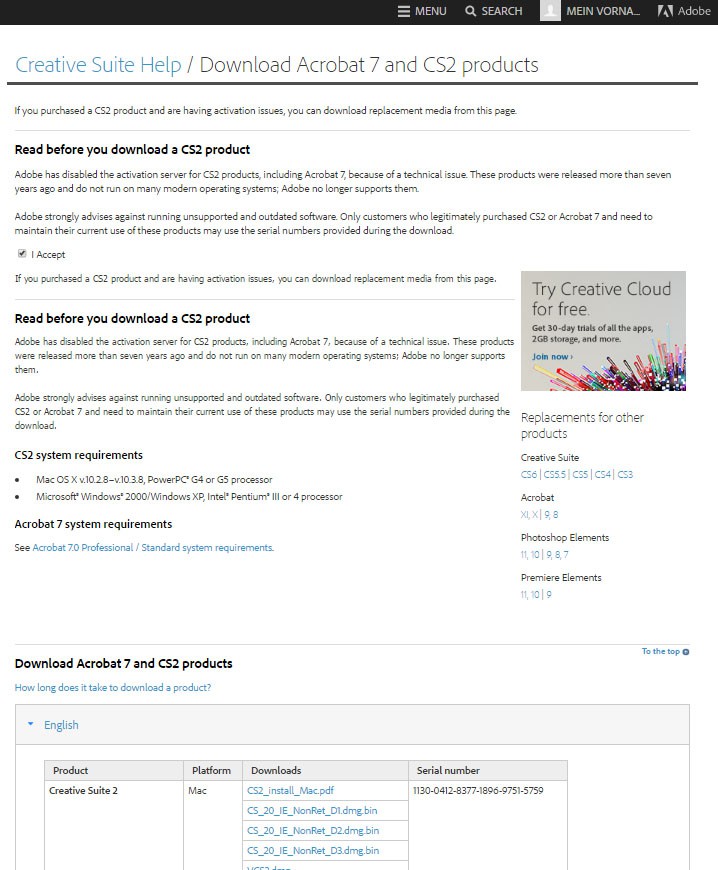 Installation
We just like to get Photoshop from the list below. There are more things to download in the table, just have a look if you'd like something else.
But here we will concentrate on Photoshop:
Which you get via the directly following link or from the table below:
Note: To ensure that the files you downloaded aren't damaged, check the file sizes to determine if they match those listed in this section.
I've included the English Download versions here:
After you've downloaded the program, just click on install.
A disadvantage of this version is for sure that it is not anymore state of the art.
But this contains another advantage as well: Its installation is done incredibly fast. Barely a minute and you're ready to start.
You got already effects like lens flares. And working with layers is already enabled as well.
Which is very good. When you're working with Photoshop be aware that you should using layers to use really all what Photoshop contains.
Start Photoshop CS2
You're greeted with this screen, which I made with PhotoshopCS2 now. Sure. 😉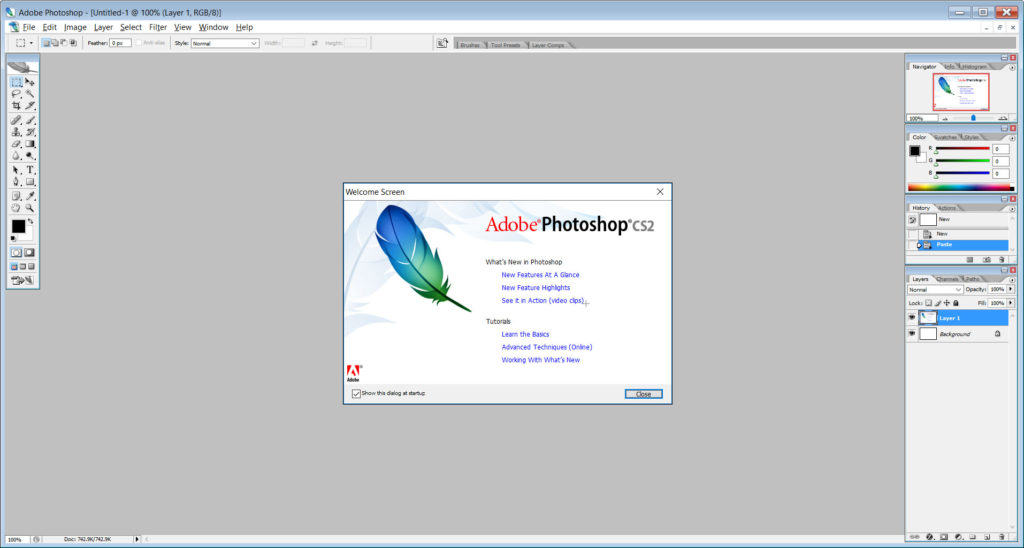 And what will you create?
If you don't know or still have no idea how to use it because you're pretty new, you might have a look at the
total training course
someone put online.
This will unleash your ideas and capabilities and your creativity.
You can do a lot with this program.
If you'd like to learn even more you might also download the Adobe Creative Suite.
I don't want you to have to search another time. This is why I've included them for you right here.
If you can't stand how the voice sounds in the videos, I've included another Video at the end as well.
Lesson #1 "What Photoshop can do."
Lesson #2 "The Bridge."
Lesson #3 "Setting up shop."
Lesson #4 "Navigation and Resolution."
Lesson #5 "Rotate and Crop."
Lesson #6 "Basic Color Correction."
Lesson #7 "Red-Eye Removal and Re-color."
Lesson #8 "Painting with the Edit Tools."
Lesson #9 "Clone, heal, and patch."
Lesson #10 "Using the Selection Tools."
Lesson #11 "Selecting with Color Range."
Lesson #12 "Making the most of history."
Photoshop CS2 Tutorials – Girl On The Sea – Photoshop Manipulation Tutorial
Photoshop CS2 Tutorials – Photo Effects & Photoshop Manipulation Tutorial NEW HD 2016
Another Tutorial – Creating a Cartoon Type Character
This is Part 1 of a tutorial spoken by a pleasant female voice.
Part 2, spoken by the same female
Part 3, spoken by the same female
Part 4, spoken by the same female
Part 5, the last part
If you really worked through all the tutorials you should be pretty good at creating or improving your pics now.
~Holger
___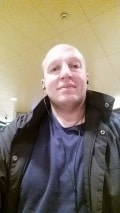 Subscribe To Our Newsletter (3)
Join our mailing list to receive the latest news and updates from our team.