(
I may receive commissions from the links in this post. For more informations read my Disclosure.
)
Are you distracted easily by large texts? Then this might not be for you or you should be working on your self-image.
Because this post is really huge. And it took me some time to write it.
Let's Start – Improve your WordPress Workflow
But if you're still thinking about how to get rid of your Monkey Texting or how to build a blog you can be proud of, maybe
you should consider improving your WordPress Workflow even more and ttherefore skip this article.
This is really how I want to improve my WordPress Workflow as well.
So now I can provide you with the real solutions I will use as well to improve my workflow a lot.
I always get ideas when I work with a tool for a while. So now I've used WordPress very intensely the last view days.
And here I've collected the bottlenecks that keep me from getting my work done faster.
What do we want to improve?
First my list. Of things to improve.
Then how we could improve this.
What tools can we use?
Which software would be good to have, that might not even exist.
Ok. Let's start. What did I come across, that I didn't like or would keep me from going.
First. The HTML-Editor of WordPress is limited. You still can do everything. Yes.
But sometimes it is a pain.
Where I really sometimes could start to swear:

Text Formatting is a painful experience sometimes in WordPress. And yeah, there are some plugins and stuff to ease that pain.
We can do different things to improve on it.
Also, I miss painfully the ability of editing pictures on the fly.
List of Things to Improve
Ok, let's go on to the list, to ease the pain.
I want to be able to write like in Word
I want to edit pictures on the fly, as comfortable as in Photoshop or Paint.net

I want to be able to make screenshots on the fly

I want grammar checks and spell checks. Since I am not a native speaker this will be incredibly useful.
I want to get rid of the admin bar when logged in
If possible I wanna use an external editor to write and publish my blog posts.
Let's see which editors we can consider
I wanna have a faster, more flowing, easier experience.
I want the HTML tags to be highlighted
I want to easily change the style of my text like in Word or any other good text processor.
Editor Plugins
TinyMCE
Before I continue with Browser Plugins, what could we do to really improve our workflows with WordPress?
We can search for some WordPress Plugins or Tutorials to improve the editor. I use only one right now:
TinyMCE, get it from here TinyMCE or just search in your WordPress Dashboard for it when navigating to your plugin section.
And it is free as well. 🙂

Because now you're enabled to use different styles and HTML tables as well. I only use the free version.
So I won't give you feedback about the premium version right now.
WP Editor
WP Editor promises to improve your online editing experience a lot.
Since I am writing this article I am a little bit scared to try it here.
You know why? Because I am not sure if the shortcuts I will be describing will still work.
But what I can see from the screenshot below is very promising.
Left side: Shows the original Editor. Right side: shows what you get using WP Editor.

TablePress
This gets more and more fun the longer I do it.
Just discovered TablePress as a recommendation from another site.
And immediately downloaded and activated it, when reading that it has about 400.000 installations and a 5-star rating.

And immediately created a table I want to add at the end of this post, so you get an additional overview what I've talked about here.
I just started without even reading the description and noticed it's straightforward. The original site where I discovered this plugin claims
that it can be a little bit time-consuming. At the moment my opinion is nope: It's definitely not.
But this might differ by your experience and what you'd like to do with it.
WordPress Site Builder Plugins
Site Builders are plugins that will give you an advanced editing experience.
Browser Plugins
I will concentrate on Chrome here because I am using this browser.
Maybe I'll add the same for Firefox or other browsers later. You might just search for similar plugins yourself. Be sure, there's plenty for each browser.
For free.
WordPress Admin Bar Hider Control
Now you just got a button where you can easily turn the admin bar on and off.
Because sometimes it can also be a little bit annoying if you try to work on your side and the admin bar when being logged in,
hides some important elements.
What distracts many times from work is the admin bar. It might hide important things you have to see to go on editing.
Let's see if we can get rid of that using any browser plugin.

If you like the bar you might just want to:
Add To Chrome
WP Write
When you're on your way and you have no internet access you might want to write offline.
Then you can use WP Write, I don't consider it as very comfortable because you cannot really insert links or videos like just using the File Dialog.
Hint: This brings me to an idea: Who writes the first external WordPress application? This will be the killer and you can earn a lot of money I guess.
You'll have to set it up though, enter your Blog's Name, and the XML-RPC Endpoint.
Normally it should be like this:
http://yourfulldomainname/wordpress/xmlrpc.php
Finally, you have to enter your User Name (This is your WordPress User Name) and press save.
After these steps, you're ready to write.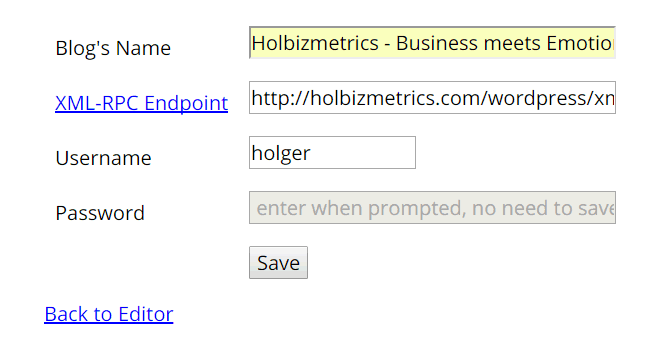 Grammarly
When I first tried Grammarly, though I knew the description, I thought: What's this? I expected that something opens up or is clearly visible on my computer anywhere.
Instead, I was just provided with a little green round icon containing a circular arrow. That's it? Yeah, it is. But it's good in the long run. Just imagine you're writing a text,  Grammarly will officiate as your writing Watch Dog.
In the pic below I've added what you can do if you activated the suggestion function.
Just double click (or tap if you got a touchscreen enabled computer or tablet) a word to get a list of synonyms you might want to use.
See below.
Just hit the word you want to use instead and it's automatically replaced for you. Very helpful.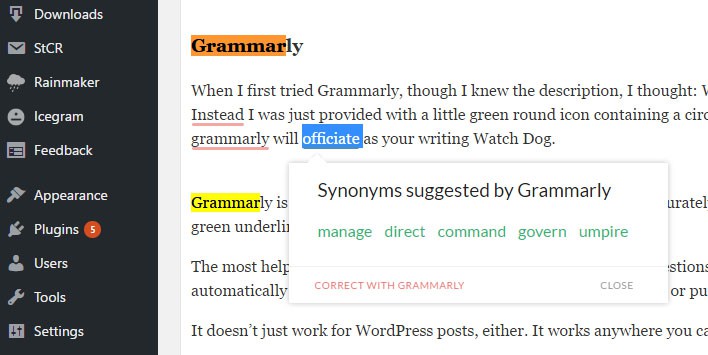 First I was like: Does it even work? Then I was ok using it, and I guess now I'd like to keep it. I love it.
If you make any writing mistake in your texts you will provide with an underline. Especially with a red underline if Grammarly "thinks" that your grammar is messed up in a sentence or paragraph.
And it's not only working for WordPress, basically, any text you use on your computer you might process with Grammarly to pimp your texts a little bit.
So you will be writing a lot more with a lot fewer errors and spelling mistakes. And you can even use the "New Document" button to copy texts from your word or any other application and process it there. When you're done just copy back and voilá. There you go. 🙂
If this is not enough there's also a premium version you might register for. I didn't use it yet. I am only aiming for the free version.
If that changes I might get you feedback on that.
Sometimes Grammarly does not make correct suggestions. Because several times it advised me to put a question mark at the end of the phrase.
Because in its opinion this sentence could only be a question. When it's not correct in terms of grammar I just ignore the suggestion. I can live with that.
And it still provides much more value than it is a little bit off.
See video below to get a better impression:
WordPress Style Editor
This extension is great for making tweaks to your style.css file while viewing your public facing site. It's great for making little changes that are instantly applied at the click of a button.
Just install the extension with one click and activate the Chrome developer window – F12 or Ctrl + Shift + I in Windows and Cmd + Opt + I on Mac OS X. Make all the CSS style changes your heart desires, then select the extension next to your address bar.
All you have to do is click Save style.css changes and you're done. As long as you're logged into your admin dashboard, you're good to go.
While you might not be able to make the most advanced changes, you will be able to make quick work of those tiny style changes that will bug you if you don't fix them right away.
ColorZilla
Have you ever gone to a site where you nearly fell in love with their theme and color styles? ColorZilla makes it really easy to add an eye dropper tool to your browser so you can find the hexadecimal code for any color on the site you're currently visiting.
After the quick installation of this extension, you'll be able to click the button in your browser, then select the color you wish to use. You can additionally access your color picker history, reselect colors and other options in the drop down list that appears after clicking the extension's button.
Lightshot
Lightshot is an incredibly useful screenshot tool because it can copy a selection of your choice, rather than the entire screen. You can copy only what you would like to save and annotate it before saving, uploading or sharing your selection.
Just install, click and you're ready to go. You can start making a selection by clicking and dragging your mouse. That's when options will be listed on the bottom, right-hand corner of the image area.
GooEdit
WordPress Keyboard Shortcuts
BUT, since you might be a blogger: Are you aware that you could use keyboard shortcuts
to format in WordPress? Do you? No? Then let's change that quickly.
Maybe you even don't know them yet. I promise it will make your blogging work a lot easier.
You use them anyway, but, let me guess – you did not even know you could, right?
If I just tell you CTRL-A to select all the text in a document this is not really new.
How To Use Keyboard Shortcuts
We'll have lots of stuff to format, write, rewrite and so on. And we can reduce the number of mouse clicks and keyboard strokes significantly introducing shortcuts.
You all know the tiring feeling of maintaining a large site. So tell me, what's the reason to make life not easier? Unless you are a little bit crazy (are you? 😉 there is none.
Let's make your brain breathing again and refresh.
And yes, it's a little bit stuff to learn and memorize. But since you will use it a lot, this should be a matter of days only – if even.
All the work that goes into running a blog can be exhausting and time-consuming to say the least. While keyboard shortcuts don't exactly eliminate the need for site maintenance, they do slim down the time it takes to do certain things. If you want to save yourself some time – and possibly hours – then you should definitely take the time to learn these handy little shortcuts.
Where to use Keyboard Shortcuts
I don't know what you'll have to do on a Mac to make this work, but derived from the little experience I got, if should be sufficient just replacing the CTRL key with
COMMAND how it's called when using a Mac.
Blog Post Editor
First some basics and then the interesting stuff:
Highlighting Text | CTRL + SHIFT + Arrow Forward or Arrow Back
Moving to the next/last word | CTRL + Arrow Forward or Arrow Back
And which is very important all the time and should be installed into your brain like a reflex:
Press CTRL + S to save your hard work. 🙂 Crucial!
The post editor keyboard shortcuts are a great way to cut back on all those pesky mouse-clicks. Below you will find a list of all the actions available to use in WordPress and their corresponding key sequences to help you speed up your blog edits.
Not WordPress Specific (those should work pretty much in every program)
Copying, Selecting, 
To Highlight Certain Text | CTRL + Arrow Forward or Arrow Back
Select All |  CTRL + A
Copy | CTRL + C
Paste | CTRL + V
Cut | CTRL + X
Undo | CTRL + Z
Redo | CTRL + Y
Delete All | Backspace
Navigating and Advanced Selecting
Navigate to Next Previous Word | CTRL + SHIFT + Arrow Forward or Arrow Back
Delete Previous Word | CTRL + Backspace
Delete Next Word | CTRL + Delete
Move to Previous Paragraph | CTRL + Up Arrow
Move to next Paragraph | CTRL + Down Arrow
Move cursor to top of the text entry field | Ctrl + Home
Move cursor to bottom of the text entry field | Ctrl + End
One frame up | Page up
One frame down | Page down
Select paragraphs or lines | Shift + CTRL + Up Arrow
Mac Users: Use the Option key instead of the Ctrl key.
WordPress Specific
Adjusting Text Style and Formatting
Format your text as desired
Bold | CTRL + B
Italics | CTRL + I
Address | CTRL + 9
Underline | CTRL + U
Insert or Edit Link | CTRL + K
To change the body of the desired text to a Heading tag, you don't need to highlight the whole sentence in order to use the keyboard shortcuts. Instead, just click the area that you want to insert a Heading tag and then use one of the shortcuts below
Heading 1 |  ALT + SHIFT + 1
Heading 2 | ALT + SHIFT + 2
Heading 3 | ALT + SHIFT + 3
Heading 4 | ALT + SHIFT + 4
Heading 5 | ALT + SHIFT + 5
Heading 6 | ALT + SHIFT + 6
These next keyboard shortcuts will be in the following sequence: CTRL + SHIFT +(insert action button)
To Check Post Spelling (nice!) | CTRL + SHIFT + N
Add or Remove Code Tag | CTRL + SHIFT + X
To Justify Text Layout | CTRL + SHIFT + J
To Align Text Center | CTRL + SHIFT + C
To Align Text Right | CTRL + SHIFT + R
To Align Text Left | CTRL + SHIFT + L
Insert Page Break Tag | CTRL + SHIFT + P
Insert Read More Tag | CTRL + SHIFT + T
Number Style List | CTRL + SHIFT + O
Bullet Style List | CTRL + SHIFT + U
Remove Link | CTRL + SHIFT + S
Insert Link | CTRL + SHIFT + A
Insert Image | CTRL + SHIFT + M
Insert Quote | CTRL + SHIFT + Q
Help | CTRL + SHIFT + H
Tips For Distraction Free Writing Mode
If you like to do a more Zen type style of writing with as less distractions as possible press:
To Widen The Screen | CTRL and +
To Narrow The Screen | CTRL and –
To Put The Screen Back To Default Size | CTRL and 0 (zero)
WordPress Keyboard Shortcuts For Comment Moderation
If you'd like to use the keyboard shortcuts relating to moderating comments you have navigate to your profile.
Because they're not activated in your default WordPress environment.
Do the following to make them work:
Locate your profile from your WordPress Dashboard
Locate the Keyboard Shortcuts tickbox in your profile
tick the box, and save your profile
After that, you'll be all set!
Keyboard Shortcuts For Comment Moderation
Filtering through comments is probably one of the most time-consuming aspects that come with running a blog. After awhile, those mouse clicks can get a bit monotonous. Thankfully, the keyboard shortcuts that you've just activated can really speed things up. Below you will find the various action keys and what each of them does.
Navigation
K | This is the Up Key, and it will highlight each of your comments in a light blue color to show which comment you're currently on.
J | This is the Down Key button. It will also highlight your comment in light blue.
You can use these keys to move up and down in the comments section. If you use J to go to the very bottom of the comments on a single page, you can press it one more time to go to the next page of comments; you can also use K to go back to the previous page if you are at the top of the page. This way you can easily navigate back and forth through the pages of your comments.
Actions
The keys below can be used to perform a certain action. In order to use them properly, be sure that the comment you want the action performed on is highlighted (light blue background) and then use one of the action keys below.
A  (Approve) | Approves the current comment that you have selected.
D (Move To Trash; Delete) | Moves the selected comment to trash, and/or deletes the comment.
E (Edit) | This will take you to the screen for editing the comments. (I didn't even know this function existed until I started testing out these keyboard shortcuts myself.)
Q (Quick Edit) | Opens the Quick Edit option in your comments so that you easily make the edits of your choosing. You can use the ESC key to cancel out of the action.
R (Reply To Comment) | Ever hate how long it takes to reply to comments on a blog? Me too! Use this action key to quickly add replies to comments in your blog via the back end. Just know that this only works if you have an Administrator role. You can also use the ESC key to cancel your reply.
S (Mark as Spam)| This key moves the selected comment to the Spam comment folder.
U (Unapproved Comment) |  Use this key to remove the approval of a selected comment and to place it back into moderation. You can then use any of the other actions keys to execute your next option for the comment itself.
X (X marks the spot) | Ticks the check box.
Z (Undo) | Undoes an action, or moves a comment out of the trash area.
Bulk Action Keys
Sorting through comments one by one can still be a tedious action if most of your comments require something repetitive. And let's face it – sometimes, you just need a little more oomph. Below you'll find a few more action key combinations that will allow you to do bulk editing on your comments.
In order to use the bulk actions, you will need to select which comments you want the bulk action performed on. You can use the X key to mark each comment one by one, or you can use SHIFT + X to mark all the boxes at once, and then filter through the ones that you don't want the action done on by press X on the ones of your choosing.
SHIFT + X (Checks all boxes) 
SHIFT + A  (Bulk Approve) | Approves the bulk items that you've selected.
SHIFT + D (Bulk Delete) | Permanently deletes the selected comments.
SHIFT + S (Bulk Spam) | Moves selected comments to the Spam folder.
SHIFT + T (Bulk Trash) | Moves chosen comments to the Trash folder.
SHIFT + U (Bulk Unapproved Comment) | Removes approval on selected comments and puts them back in moderation.
SHIFT + Z (Bulk Undo) | Moves selected comments out the Trash folder.
Wrapping It Up
With well over fifty keyboard shortcuts to use, it may seem like a rather overwhelming task to just learn all of these. However, speaking from personal experience, getting even a moderate handling on these shouldn't take more than a day. The learning aspect aside, these shortcuts (especially the ones for comment moderation) are hugely helpful.
Whether you're a long-time blogger or a WordPress newbie, these shortcuts can drastically increase your workflow while working in WordPress. You don't need to jump right in to learning them all right away, but why not learn a few? Just a bit of practice, and you'll be a master of these shortcuts in no time!
So that's it for new and I'm even starting writing this huge post without the plugins wouldn't even have been possible. At least not so easy and a lot more time-consuming.
Catch your Breath. Only 2 Sections to Go.
External Editors
Mac Users might even already be doing this.
Using an external editor to write posts for WordPress. Why?
Because this enables you to write offline.
No internet? Doesn't disturb. I basically really hate it, when a post gets messed up or partly lost because my internet connection is unstable.
If you can edit offline this will save you a lot of time.
Which editors are out there?
Hint: If you'll be the first one writing a tool that even might be expensive, but enables you to do the things you can do with WordPress,
not be limited to the browser I am sure people would pay a lot if they got their business or blog running online and you can save them a lot of time and money.
Think about that because you might be creating the best tool around. Why not gain some money doing this? 🙂  
Sublime
One editor out there is called Sublime. And it's free.
The website greets you with the statement:
The text editor you'll fall in love with.
Really? I didn't. But maybe I didn't use it enough yet. Let's see if I change my opinion.
This doesn't mean that I think the editor is bad – if I think so, I would tell you. Be sure.
What's good about it though is:
You get syntax highlighting.
Can customize anything.
Got a lot of options.
And also great is the multi-selection feature. Don't make one change ten times, make ten changes at one time.
Get it from here:
And since I am a developer I love this function as well:
Goto Anything to open files with only a few keystrokes, and instantly jump to symbols, lines or words.

Triggered with Ctrl+P, it is possible to:
Type part of a file name to open it
Type @ to jump to symbols, # to search within the file, and : to go to a line number.
if you combine these shortcuts, so [email protected]
could take you to a function
read_file
within a file
text_parser.py.
Similarly,
tp:100
would take you to line 100 of the same file.
And this is also a pretty neat feature, which I can imagine is useful for very large texts or writing books:
Get the most out of your wide screen monitor with split editing support.
Edit files side by side, or edit two locations in the one file. You can edit with as many rows and columns as you wish.
Take advantage of multiple monitors by editing with multiple windows, and using multiple splits in each window.
Take a look at the View/Layout menu for split editing options.
To open multiple views into the one file, use the File/New View into File menu item.
Windows Live Writer
Windows Live Writer is announced by Microsoft with the slogan "Making your blogging experience a breeze."
"Making your blogging experience a breeze." 
Sounds good. Let's see if it really is.
Open Live Writer
Open Live writer also claims to be able to provide you with several blog post services
like WordPress, Blogger, Typepad, Movable Type and some more.
Gosh, now this seems to be a lot of work. I just intended to write how to improve your workflow
by considering some valuable alternatives.
First, it was a little bit difficult to find some. Then I had to filter through all the not valuable things.
And now I am starting to get a little bit overwhelmed.
Nonetheless, I am trying it right now.
At first, it just likes to know your
Homepage address
User Name
Password
and then it will download everything.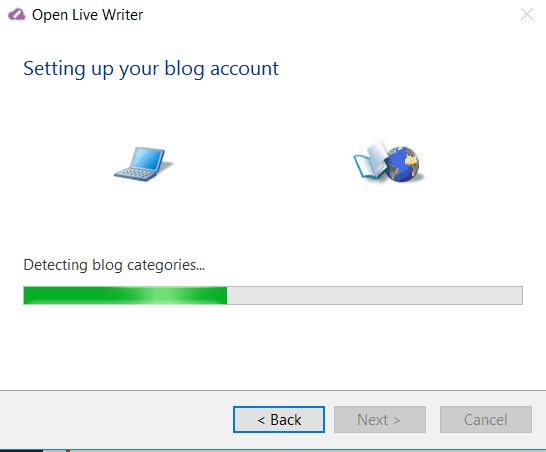 after this is finished, we are able to see the interface:
This seems to be a pretty new project because the plugin section seems not to be finished and greets you with a "coming soon."
I gave it a try and it seems to be promising.
But I miss the thing I hoped to find here the most:
A downloaded blog that appears as precisely as possible in the editor,
like it appears in my browser.  THAT's definitely what I am missing.
At least it seems like I can write new posts and see what they will look like right from the editor, no matter
if I am connected to the internet or not. That's pretty neat.
Oh. I was wrong. It definitely IS possible.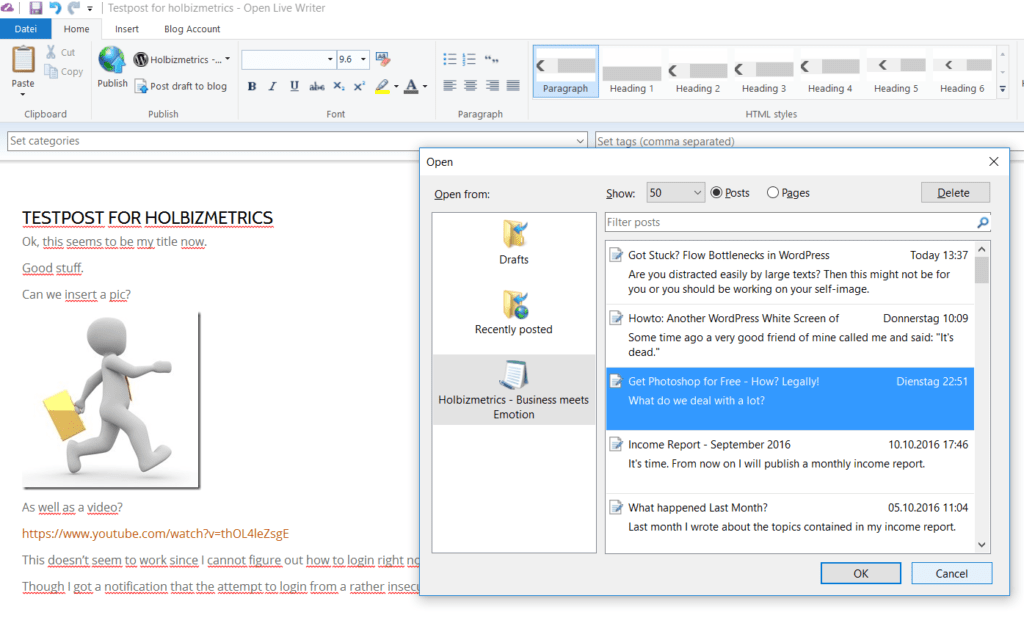 Now that's surprising. I didn't expect this to be solved already with this article, though I tried.
So I tried to import an older blog post and to change some little things, which worked easily.
How great is that? 🙂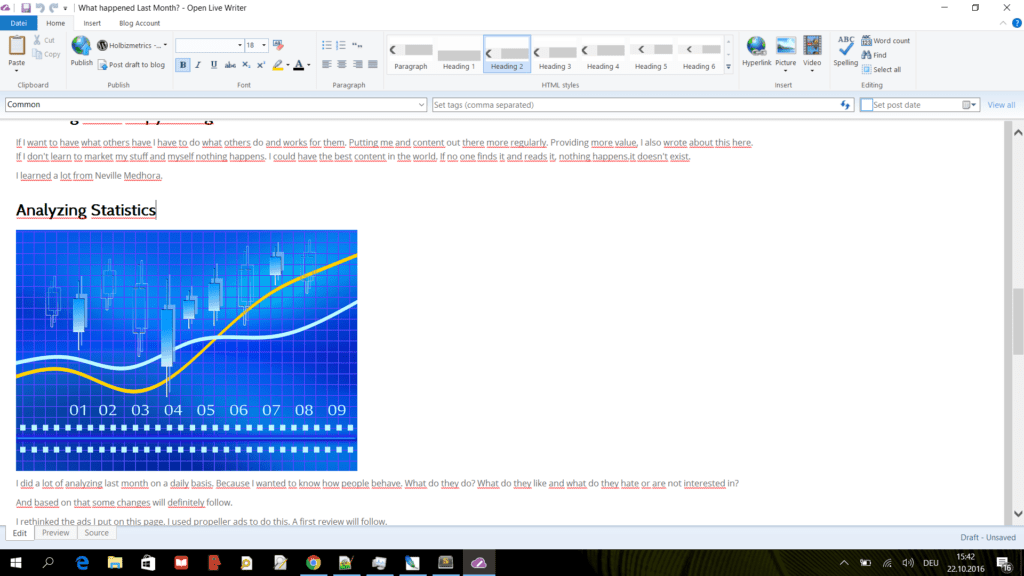 External Tools
And if you're still not satisfied you can do one last thing:
You might write your own extensions for sure or look for a developer that might do it for you.
But the other possibility is to use external tools to improve your workflow.
Search And Replace
For example, I often use my own tools I've created like "Search And Replace" which enables you to do a lot more
which you can't do with any other of the tools introduced here.
For example:
Remove HTML Tags
Let's say you got a pretty neat text, but only a normal text editor and you want to get rid of the HTML tags.
This is possible with my tool in one easy step.
Reformat Text
Or you got a text that is not really formatted. It's like a tapeworm text, i.e. a long unformatted text.
Maybe still containing all the punctuation. But no paragraphs. And you'd like to reformat it.
After every recognizable end of a sentence, you'd like to introduce a new line.
That's possible with one step.
Also if you just like to remove all additional empty lines, or inserting line numbers or removing them.
Beautify HTML / XML and more HTML Related Stuff
Maybe you'd like to beautify an HTML or XML file.
Maybe you'd like to filter all the links from a text file or all the email addresses.
Handling Lists
Or you'd like to write an email to everyone on your list. And you don't want to write each email individually because you want to create
a mass email for your blog without having to use any other tool.
You can do that.
If you just got this data, for example:
id,first_name,last_name,email,gender,ip_address
1,Timothy,Campbell,[email protected],Male,143.31.145.88
2,Kenneth,Adams,[email protected],Male,236.178.80.196
3,Robin,Ryan,[email protected],Female,158.62.85.192
4,Mildred,Knight,[email protected],Female,190.72.71.62
5,Brenda,Franklin,[email protected],Female,217.62.109.142
6,Janet,Thomas,[email protected],Female,202.194.121.170
7,Sean,Freeman,[email protected],Male,40.158.126.239
Just write:
Hi $1 $2, I'd like to inform you that your email address $3 has been removed from our newsletter.
into the filter field.
For more information I will offer a video soon, so you can see what you can do using it.
Overview of Introduced Things
Table
Attention: The internal data of table "3" is corrupted!
___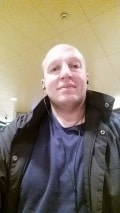 Subscribe To Our Newsletter (3)
Join our mailing list to receive the latest news and updates from our team.