(
I may receive commissions from the links in this post. For more informations read my Disclosure.
)
Holger from A-Z
Seems like there exists something called A-Z to know more about someone.
So here's mine:

Age
Born 1976
Bed Size
Normal
Chores
I Hate – All types!
Dog
Love 'em though got none yet.
Essential Start to Day
Long, hot shower, long breakfast. Get up late..
Favorite Color
Blue
Gold or Silver
Gold
Height
5'7" or 5'6"
Interests
Composing Music,
Going out and meeting people, Software Developing
Job Title
Software Developer
(At the moment: Software Tester)
Kids
None
Live
Switzerland
Mothers Name
Mama
Nickname
Didn't ever really get one. Besides little brat or something. Sisters, you know. 😉
Overnight Hospital Stays
2
Pet Peeves
Bad manners, rude people, arrogance
Quote from film
Basically all profound quotes from Matrix, Part 1
Right/Left handed
Left
Siblings
Two Sisters
Time you wake
7:45am
Underwear
Yes, I do wear underpants... 😉
Vegetables you hate
plums
What makes you late
Getting up too early,
traffic
X-Rays
Teeth, Left Hand
Yummy food I make
Turkish Kebap, Pide, Mexican food, Asian food
Zoo Animal
Penguin, Lion, Apes, Fishes
But there's definitely some more about me.
___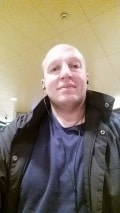 Subscribe To Our Newsletter (3)
Join our mailing list to receive the latest news and updates from our team.