(
I may receive commissions from the links in this post. For more informations read my Disclosure.
)
Like in the last Article Flow Bottlenecks in WordPress, there is, even more, you can do to improve your workflow.
So consider this article as a follow-up to it's predecessor.
If you tried everything from the last post, it's not the last thing you might have done.
And it can be stressful and sometimes you just got enough and don't want to open any more tools, programs or anything by clicking and stuff, right? Pheeeeew. What can you do to ease stress and relax a little?
Let's do the first thing using Windows on board things.
Creating Shortcuts.
Keyboard shortcuts for programs we want to run.
So you don't need to install anything. Just create some links and tweak them for your gusto. 🙂
Windows Tip: If you want to shorten the time consumption to run program,
launch everyday tools, or open your most recent documents,
Windows has already provided keyboard shortcuts to do this.
Just do the following:
Create a shortcut of the file you want to be able to run by your favorite key combination.
This will create a program.lnk file. Put it anywhere you want. I only put it on my desktop yet.
For example, you could create a folder and call it "Startups", "Keyboard Shortcuts" or whatever helps you to remind.
Now you have to bring up the properties dialog by using your right mouse button. Click Shortcut Key and press your fancy keyboard shortcut.
If you don't put your keyboard shortcuts on your desktop the following might be valid for your current OS:
Shortcut keys work differently depending on the location of the shortcut. If the shortcut is on the desktop or in the Start menu hierarchy, you can use its shortcut key to start the assigned program, or switch to the program if it is already running.

If the shortcut is not on the desktop or in the Start menu hierarchy, you cannot use its shortcut key to start the assigned program, but you can use its shortcut key to switch to the assigned program if it is already running.
Let's get rid of the mouse. More: Keyboard Shortcuts
If you use your mouse you might get almost everywhere using more or less clicks. Shortcuts will force you to learn a lot more.
But the time you will save is incredible. For example, could you imagine I wrote this text now with almost no mouse click at all?
It's possible. But you have to be willing to learn. Yes, this requires some willpower. Collect your courage to use your mouse a lot less while writing and there you go.
Because in the last article (Flow Bottlenecks in WordPress) I've shown you how you can do a lot more much quicker using keystrokes.
So don't stop there to optimize your workflow, you will need your mouse still enough but you save the time of jumping between clicking and typing, typing and clicking and so on.
Now this will be the last category, I caught myself assuming you should know that. But why not explain it anyway here?
This is a good platform and for this article exactly the right place to do so.
Global Windows shortcuts
Windows has even a lot more shortcuts to offer.
I listed some here that might come in very handy:
Opens the Start Menu | CTRL + Esc or just Windows Key
File Search in Explorer | F3
Cycle through opened programs | Alt + Tab
Show / Hide Desktop | Win + D
Open Windows Explorer | Win + E
Lock | Win + L
Minimize all Program Windows | Windows + M
Restore all Program Windows | Windows + Shift + M
Type, don't click
Instead of searching all hidden entries in the Start menu you can also just hit Windows key once and type in what you want to start.

Instead of clicking on the Start menu and dragging your pointer through menus and submenus of programs, launch what you need without ever taking your hands off the keyboard in Vista. With a single tap of the Windows key, you'll invoke the Start menu, and your cursor lands conveniently in the search box. Begin to enter the name of the program you need, and Vista will find it as you type. Hit Enter to launch the right choice.
Assign key combinations to any Windows shortcut: For files, folders or programs you use often, place a shortcut on your desktop and assign a keyboard combination to it—this way, with a few keystrokes you can launch it even when other programs are running in front. To do so:
Place a shortcut to the frequently-used item on your desktop (Right-click, Send to Desktop as a shortcut). Right-click the new shortcut and click Properties.
In the Properties dialog box, click the Shortcut tab. In the Shortcut key box, enter a Control-Alt key combination or a Control+Shift key combination then click OK.
Quick Launch Bar key combinations (Vista only): In Windows Vista, if you enable the Quick Launch toolbar on your taskbar and add shortcuts to it, they each automatically get a keyboard combination depending on their position. The first shortcut on the toolbar is Win+1, the second, Win+2, etc. Here's more on Vista's built-in Quick Launch keyboard combos.
And don't worry about the costs yet. There are none.
Everything
One thing we can also do is to use voidtools.com's everything. And – guess what? Yes, it's free. 🙂
The free search utility built by voidtools is an instant file locating utility for Windows that is very small and has a lot to offer.
The program lets you choose between two modes: like always on or just start it manually when needed.
The first start requires some time because it has to build an index. It uses another method than windows explorer to do so.
It reads the entries of the windows journals, so this has only to occur once. Or if you really like to refresh it, because some entries are not found. It even will run on mapped drives that have been assigned a letter. Like S:\ for example.
It offers boolean ("AND", "OR"), Regex and Wildcard operators which are very intuitively integrated, in my opinion.
You can even send found files to an FTP with lightning speed just by clicking.
Everything has no built-in feature to use presets, but you can store bookmarks to simulate that a little bit.
You could consider Bookmarks in everything like presets because those are predetermined searches that you've stored to use over and over again.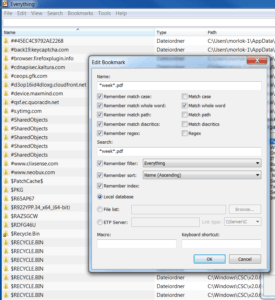 There are other tools that work similarly too, you might not have been heard of yet.
Have a look at Lookeen which seems to be commercial right now or Locate32 as well as X1 Search which exist as well but I did not use yet.
So you might tell me if you like them or what's missing. I am pretty satisfied with everything because it works!
And I love the feeling that it looks pretty much like my windows explorer and integrates the context menu almost 100% too.
And it's still developed, so from time to time you get little improvements.
I think almost anyone can use it. And I guess soon you don't want to miss it anymore because the slow search in explorer compared to anything can be quite annoying.
And you got the possibility to order columns and even choose your columns as well.
Name, Type, Path, Date and Size are some of the default columns already activated.
For example, if you want to search for every pdf in c:\temp, just type it into the text box like this: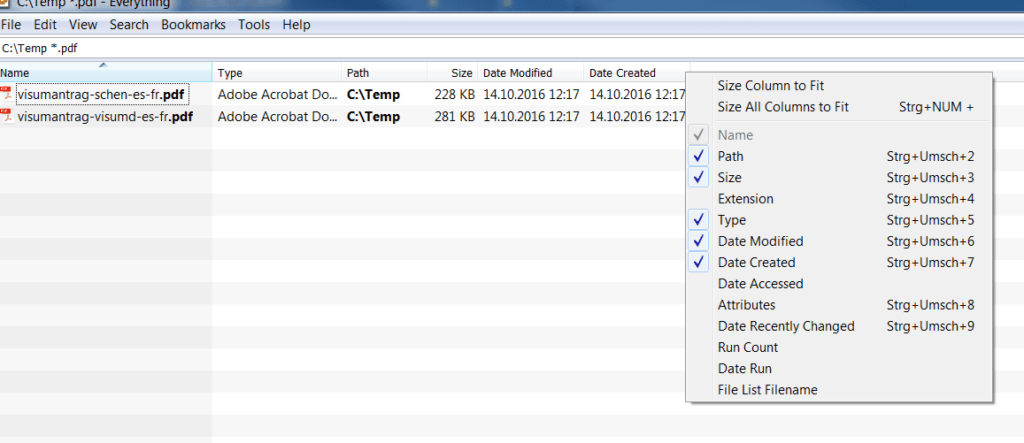 Accomplish Everything
Sometimes you might be in need to move, or change some files or locate them because you forgot where you put them.
Everything is the right tool to solve this problem.
Things that were largely time-consuming before are now handled in some seconds.
Barely such a tool exists that solves an issue with such ease.
I tell you honestly: I am in love with everything.
Agent Ransack
And Agent Ransack is very helpful as well. When I am talking about agent ransack and everything my dream would be both.
Combined. One Tool. Y listo. That would be killer, but sadly it does not exist yet.
So you got another idea to grow yourself and steal. Feel free. 🙂
Agent Ransack is a program that – similar to everything – can search your whole computer, too. The difference is though that it not searches just FOR FILES. No. It searches the content of every file and will show you the results. If you click on any result the split view left shows the found file name and right you will be seeing an excerpt of the found data in the file.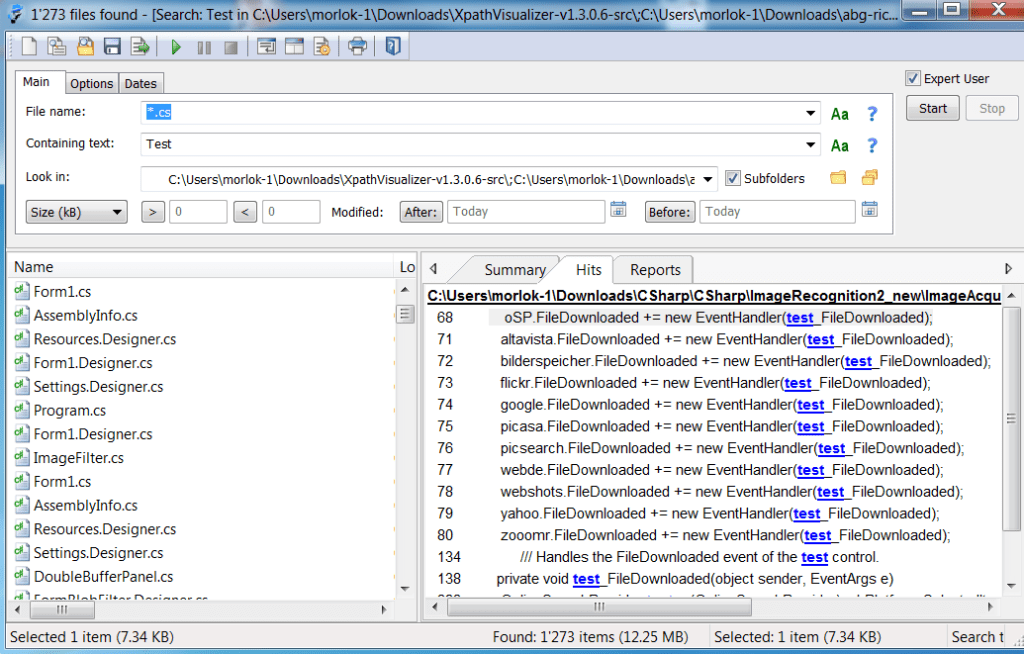 And as you can see it even display the file number of the found files (File Name: *.cs – this is a used wildcard)
where the given string (containing text) has been found.
So this completes right now everything you can do to make your WordPress Workflow a much quicker experience
and eliminate your flow bottlenecks, without a must to script, code, develop or program anything. Which you could do for sure as well.
And enables you with even a lot more possibilities.
Added 2016-11-07 – 07:18 PM
What I already found out is:
Updating permalinks
If you have to update permalinks you just can copy your headline and enter it into the permalink field.
Wordpress will automatically omit commas and all unneeded stuff and link those words with a dash to create a valid readable Permalink.
Multiply Yourself
What you also can do is open the same page (either your domain in my case holbizmetrics.de where you are at the moment or for example businessmeetsemotion.com which will display the same content at the moment.
Or for example several sub pages. Maybe you want to edit a post related to a site or vice versa. Then you can open several tabs.
Or maybe you want to finish two posts or two sites, or whatever. It doesn't matter how many times you open your admin account in one browser session.
Different Sites
You can also edit several WordPress pages, no. Not in one browser.
For example, you could open one in Chrome and one in Firefox or Internet Explorer.
This helps you to login to different WordPress accounts on one computer.
For example, you could also use the "Explorer Browser Tab Extension" (Firefox: Explorer Browser Tab for Firefox) in Chrome.
This should also enable you to open another session. Then you need only one browser.
Because the internet explorer browsing session is hosted in one browser only.
What really happens in the background is: An internet explorer is opened and the instance just
is displayed and running on a tab in in Chrome or Firefox.
~Holger
___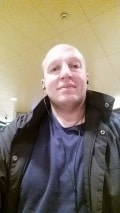 Subscribe To Our Newsletter (3)
Join our mailing list to receive the latest news and updates from our team.