(
I may receive commissions from the links in this post. For more informations read my Disclosure.
)
SumoMe Yourself!
Today I just stumbled across a newsletter mail I got from
And I hope you can still register to the offer.
This is an article that'll urge you do to do something.
We all know, sometimes this is an instrument used in advertising to make us miss something.
But this time – here with this offer – the only thing you will lose is the free offer. Nothing else.
So either you do it or you don't. Both is completely well. 
SumoMe that the SumoMe Pro Version is available for free if you send in an A/B Test before the end of august.
This is why I hurried to offer this post to you as well.
"One year SumoMe Pro for Free" the headline announces.

I will come back on this later.
It's a plugin which dashboard configuration basically looks like this: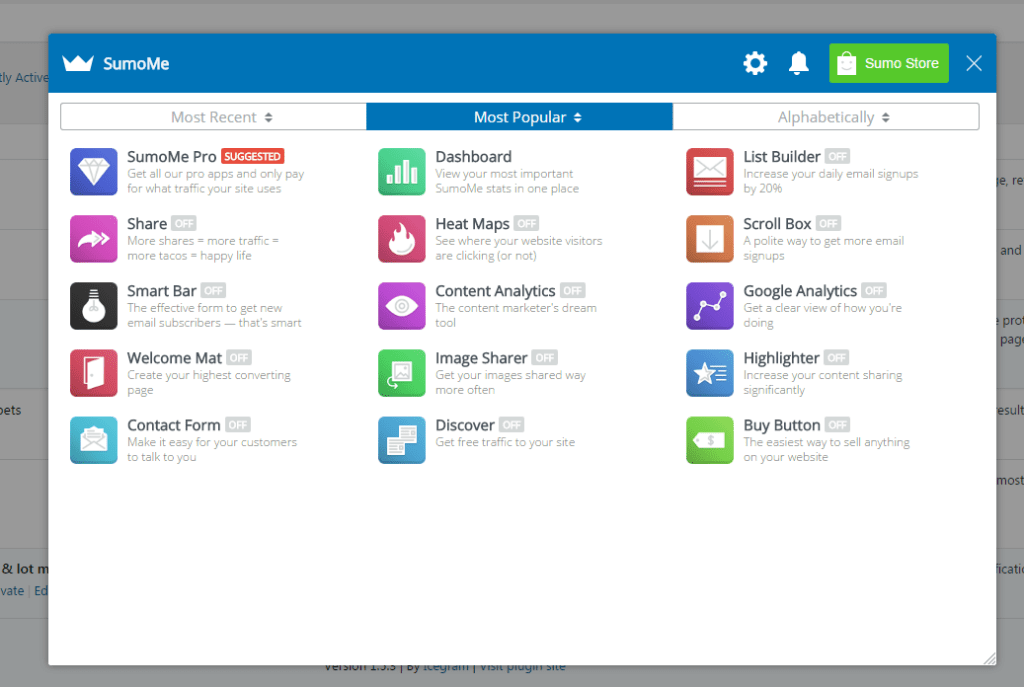 BUT, concretely:
What Is SumoMe really?
SumoMe is a collection of different apps that enable you to get different things done.
From the store – what a guess – you can buy literally everything the app enables you to do.
Only certain features are free which is completely important for this article.
So if we are new building our blog or online business we might not even consider buying and paying yearly. Let alone monthly.
Is there anything that could change our view on this?
Yes!
SumoMe is giving away it's SumoMe Pro feature for free for 12 Months. 1 Year. Yes! Without having to pay one cent even.
That's definitely worth consider installing it and trying everything. Only thing you have to do is to submit an
A/B Test until the end of the month and mail it to them.
That's the only additional reason why I publish this post today as well.
SumoMe contains tools for:
Lead Generation
List Builder – Lightbox popup with email opt-in form
Scroll Box – Reader-triggered slide-in email form
Smart Bar – Top or bottom bar for email opt-in or social sharing
Welcome Mat – Full-screen call to action pop-up
Sharing
Share – get your content shared by the provided buttons for many social platforms
Image Sharer – Make your images easily shareable
Highlighter – Enables you to create shareable text quotes for Twitter and Facebook
Analytics
Content Analytics – Track how and where visitors are reading your content or not
Heat Maps – Very interesting, I love such things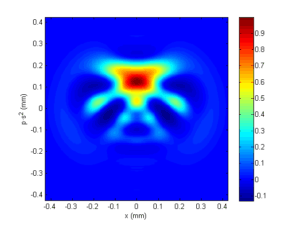 This is no Sumo Me Heat Map, but you get the idea. The legend is showing the more relevant things. The higher the more relevant.
And then you see the dark red points, would be the points of most interest. So many sites will tell you to do something about this,
because you might loose traffic if you didn't take some action there.
Communication
Contact Form – Receive messages from visitors from anywhere on your site
Why Should You Consider It?
Ten tools in one? Not bad, right? Plus, they can be used completely free of charge.
What else would be interesting?
It's easy to customize and to install, they advertize at some places with: Get ready in 37 seconds, even if you need ten minutes it's not much time you need to setup.
And you got the benefit you can install a chrome/firefox plugin as well.
It's easy to get you going. It's just a matter of minutes to get the first things runnings. But with all things, a closer look takes more time.
The interface is really easy to access and you don't need to code one line at all. Many people use it, even Airbnb seems to use it.
On mobiles you should have no problems whatsoever as well.
And now we're coming back to the offer from the headline.
SumoMe Premium Features
SumoMe is basically free for your own use, but if you want to use more features you will soon encounter the limits.
SumoMe – Pro Tier 1 ($20/month, charged annually) you will only miss out on Enterprise Integrations and Live Optimizations.
It includes
Monthly Website Visits 5k
All the Apps
Pro Insights
A/B Testing
Advanced Display Rules
Full Selection of Pro Templates
VIP Support and Integrations
So you will save $200 Dollars. I'll definitely give it a try until I wrote and published this article. Now I am too busy. Haha. Because I am still writing.
How To Install SumoMe Plugin
If you're already in your WordPress environment, just go to the plugin section and search for the app with the crown as an icon: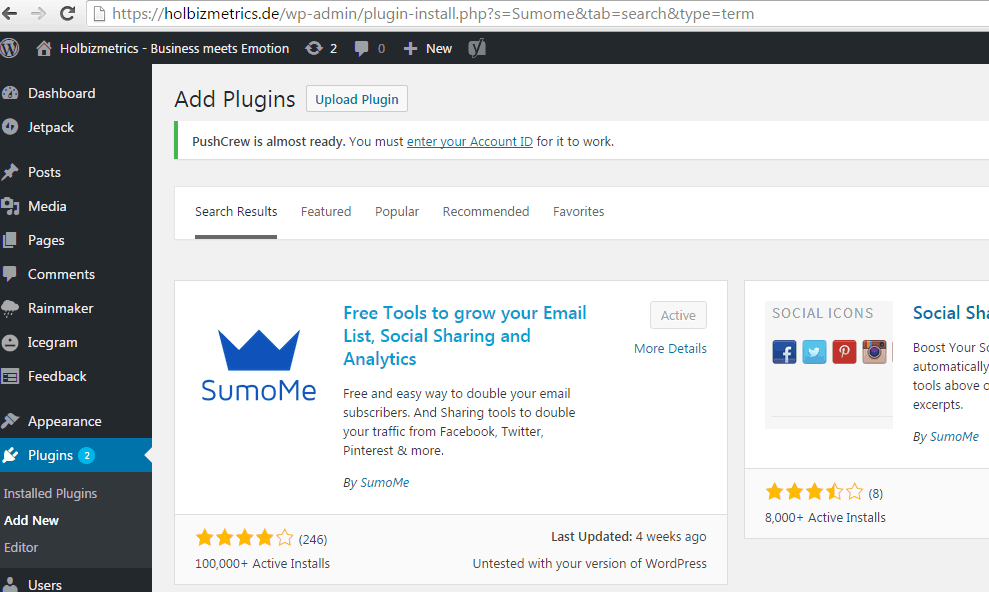 Click it. Install it. Activate it. Enjoy it.
You'll have to create a SumoMe account, registration is needed for using is.
Only provide it with an e-mail adress and a Password. You don't have to put in your phone number or your name.
Skip it.
And that's it. Almost.
Why do I have to Register?
Like in many other plugins too. To be able to use it. Like this you can only get the free features enabled. If you want to use more you have to wait for the newsletter.
If until I may have finished this article, it has changed somehow, just tick the box to subscribe the newsletter anyway. Because this will contain the offer to use it for free.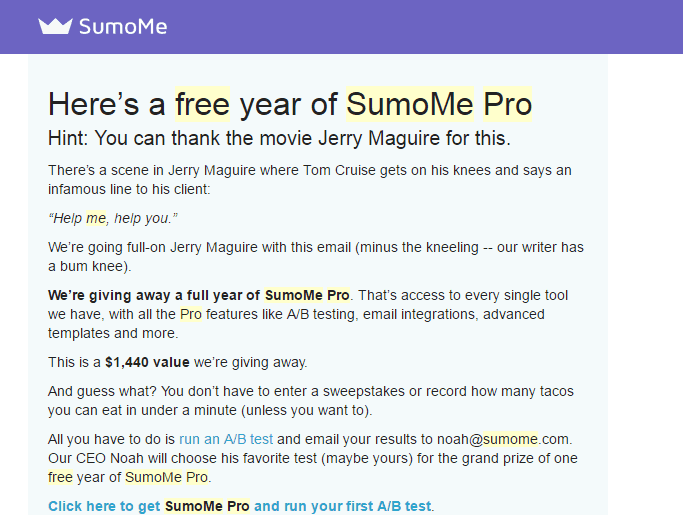 I can't provide you with my link here, because an individual link is created for each registration.
And you're asked there to provide a A/B-Test which you'll have to send to SumoMe Pro for the end of August. So better hurry up.
Some days left.
But what is it about the A/B-Test, what is this anyway?
This means you test something with one option, then with another one after some times.
Here it is considered as a binary way to find out which option performs better on your webpage.
You have to do this, because you can't just guess what users might do. You have to try and see how they react.
That's the real challenge.
For example you could do a popup A/B Test.
Do more users like the big popup or the small one? After you know you can switch things up.

A/B testing (also known as split testing or bucket testing) is a method of comparing two versions of a webpage or app against each other to determine which one performs better. AB testing is essentially an experiment where two or more variants of a page are shown to users at random, and statistical analysis is used to detemine which variation performs better for a given conversion goal.
I am really curious what happens if I can do this A/B-Test by myself as well and see how this will turnout.
And where I might have to improve things using it.
If you'd like to check it out
___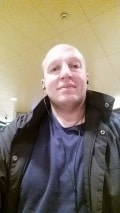 Subscribe To Our Newsletter (3)
Join our mailing list to receive the latest news and updates from our team.