(
I may receive commissions from the links in this post. For more informations read my Disclosure.
)
Here I'll show you how to gain or repair traffic.
With a simple step by step guide, just execute on each item and enjoy your traffic grow or grow again.
Why Supercharge your traffic and what's this all about?
I had to deal with some issues which you can also see in my income report of May 2017.
As a reminder, here: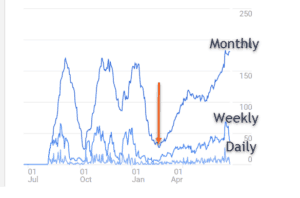 My traffic went way up. Then completely down to zero. I didn't want that to happen again.
And you can see until it reached the mark of the red arrow: Everything I did before: To no avail.
So I came to the conclusion to distil what can be done by researching various websites,
what I found out myself AND APPLIED SUCCESSFULLY. But also from different documents and guides.
Google sometimes updates its algorithms. And therefore what had blossomed and grown like crazy before. Might go down to shit.
If you wanna read about all the updates in google's algorithmic change history. Algorithmic updates can bring your traffic down, but definitely, increases the quality of websites that are found.
Thanks to Neil Patel (IMHO one of the best online marketers around), Moz (a very good site about SEO) and some other sources for example
Alex Chris, I could fortunately repair and increase a lot.
Yes, my traffic is still low. But now it's growing. And for everyone that wants to grow as well. Welcome.
Little hint: If you want to just skim through the page to get all actions done, search for texts that are written like this:
Go to google and type:
site:holbizmetrics.de
Let's start:
Finding your Indexed Single Pages

And let's get rid of any penguin or panda anxiety first:
If your single pages will show up here, it's very unlikely that your site has been penalized. Good? Good. 🙂
Let's see which single pages or posts of your site Google does actually know.
I'll do everything here with my site as well. Instead of my site, just insert yours.
For example: If I use something on "holbizmetrics.de" and your site is called "bestbloggingmomintheworld.com" use this domain instead.
Claro? Well done.
Let's put this command into Google:
(click the link to see the example live, and also do it with your site as well.
Compare the results with your blog posts and pages. If so, consider resubmitting it using google search console,
if you are not familiar with Google search console: it's the same as the former Google webmaster tools.)

What does this do? This will provide us with a list that Google has actually indexed.
We want to see this: If every single page and post is contained in Google that we think is valuable for our audience and readers.
Below the line, I've included an excerpt. (Between the horizontal lines)
---
Here is an excerpt of the list of my blog entries that are shown in Google:
Let's have a closer look now at links pointing to your site:
Finding your external Links

This is to see if any seemingly spammy links point to your site you might wanna get rid of.
Open Google Webmaster Tools here
And click where the red arrow indicates:

By Using Search Console
Hint: If this link doesn't work anymore use this search link:
The link above doesn't work anymore? Then use a google search:
Find Google Search Console – Your links
And yes, you're right, you have to do this for all your properties, which are:
https://

https://www.

http://

http://www.
This is a must, not a: "You could". No! If the https properties are not addable use an SSL certificate on your web server.
Got the properties in search console?
If not, add them.
Adding does not work?
Claim them.
Google Search console will want you to verify your properties.
The easiest way in my opinion is:
To integrate the meta tags into your website.
Why? Because you can easily see if it's still there by looking at the source code of your page.
You don't have to know your filename. You always know your website name, don't you.
So even from your mobile phone, it's easy to look at the source. Even if your browser has no option for that,
just call your page like this:
view-source:holbizmetrics.de (click here to see it in action)
Copy the blue marked text
view-source:holbizmetrics.de
into the browser, if the link before does not work.
if it doesn't work, your browser or antivirus program or Windows security mechanism prevents the link to open the source of your site.
Which is good!
You should see something like this:
<meta name="google-site-verification" content="-udPzPEXSL2vteNzGqHMZ3yD0PFLLjs9gKqqzgps8bs" />
This is the tag you have to implement in your WordPress header.
If you use another CMS or create the code manually, just make sure it's contained in the head tag.
How to add them:

Why did we do this? Because we want to make sure, that Google knows all our 4 sites. Therefore no traffic will be lost.
And now we can use the link tool. Each page has links or at least should have.
If you don't have the above picture, i.e. not having 4 properties displayed you should implement them into the header of your WordPress Theme. Navigate where the pic below shows you. If you now think: Oh, I could harm or destroy my site! Then have a look at my article
about backups, to prevent any unpleasant surprise.
But what else can we do to
Supercharge Your Traffic – Enabling Breadcrumbs
What are breadcrumbs? Those are the tidbits showing you where we are in the whole website structure.
You will find these on websites like Amazon for example or even in your windows explorer: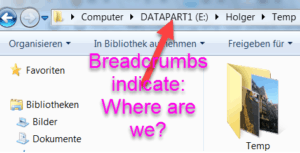 Another thing we can just do is to enable breadcrumbs. This is just too easy. Just switch it on. Finished!
I assume you're using Yoast SEO anyway, therefore I'll show you how to activate it there:
Go to your Yoast SEO and click the Advanced tab in your WordPress.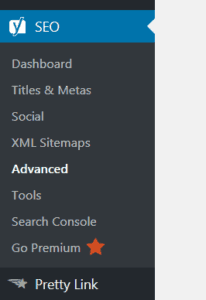 Now enable breadcrumbs in your theme.
That's just it. Mission accomplished. Yes, sometimes things can be this easy. Incredibly easy.
If you even want to know more about Google's Ranking mechanism you can read an article about Google's Rankbrain.
As well as Dive Deeper into the more than 200 Ranking Factors that Google uses to position your site. Pheeew. That's shitloads.
But definitely worth to look at.
Stay Alert – Using Google Alerts to be Notified

You want also to keep track of what has been index so far. Right? For example, if you notice something isn't indexed yet but in your opinion definitely meets the quality criteria, why not set an event that notifies you when that happens?
Let's use Google alerts for this.
What are Google alerts? You can use Google alerts to monitor new web content. Web content that has just been published.
Why not use it for yourself to monitor your content versus any competitor? Or just for yourself to be up to date what happened.
For example, I've noticed:
"Business Meets Emotion"
is a term that is not yet found in Google. Except by the articles of my page. So I could create a new alert for exactly this term in quotes.
But for your site instead, if you're a fashion addict and run a fashion blog you might for example search for: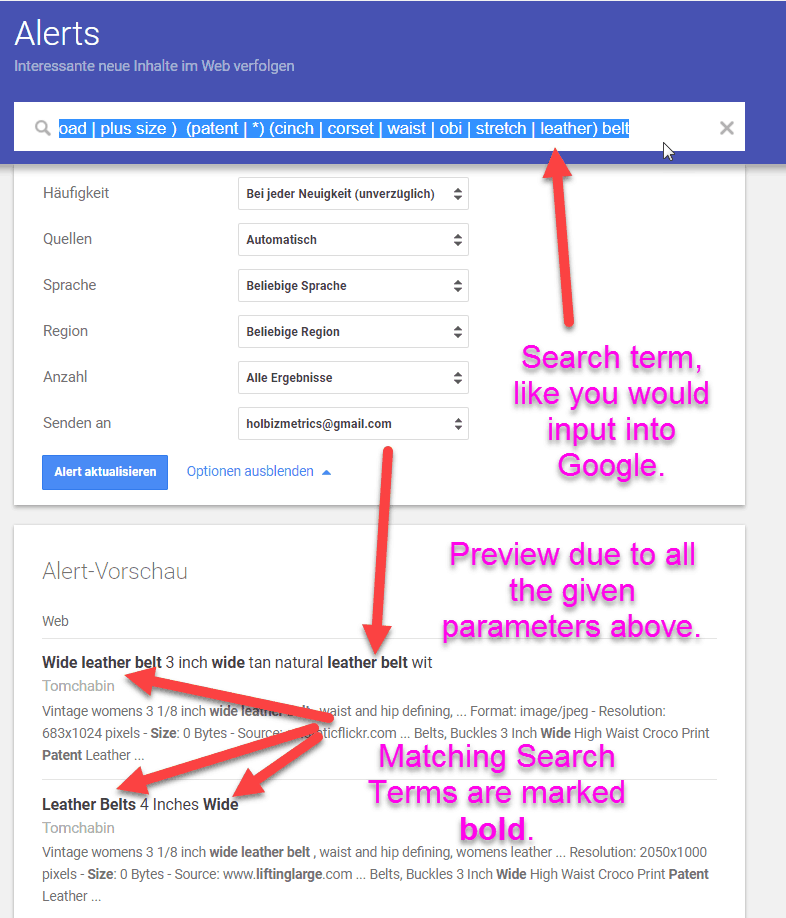 This is, by the way, the whole search term I've used:
(big | oversized| wide | huge | large | thick | broad | plus size ) (patent | *) (cinch | corset | waist | obi | stretch | leather) belt
To help out a woman that was desperately trying to overtake her competitors and wanted to know what they offer.
This will help us find if anyone puts out an article about belts. For instance, a shop offers a new item.
If you want to restrict that to our site, we can just add a site before:
site:(big | oversized| wide | huge | large | thick | broad | plus size ) (patent | *) (cinch | corset | waist | obi | stretch | leather) belt
You are allowed to use all specific search commands that Google is offering to create an alert.
I advise you to do both:
 do one alert in terms to see what your competitors do.
And add another alert with the prefix site to see when and if even your blog posts and pages of your own site are indexed in Google.
What's the long-term benefit? You don't even have to take care so much anymore and save time by Google notifying you in your inbox.
A huge effect for little work.
Getting an Overview of What's going on
You will definitely want to know how your traffic is or isn't improving.
We need some metrics to do so. One is for sure to watch Google Analytics report's data.
Links to de-index:
For example:
If people come to your pages and don't enter the sites, i.e. your clickthrough rate is low,
then this definitely can be a sign that the headlines of your article are not enticing: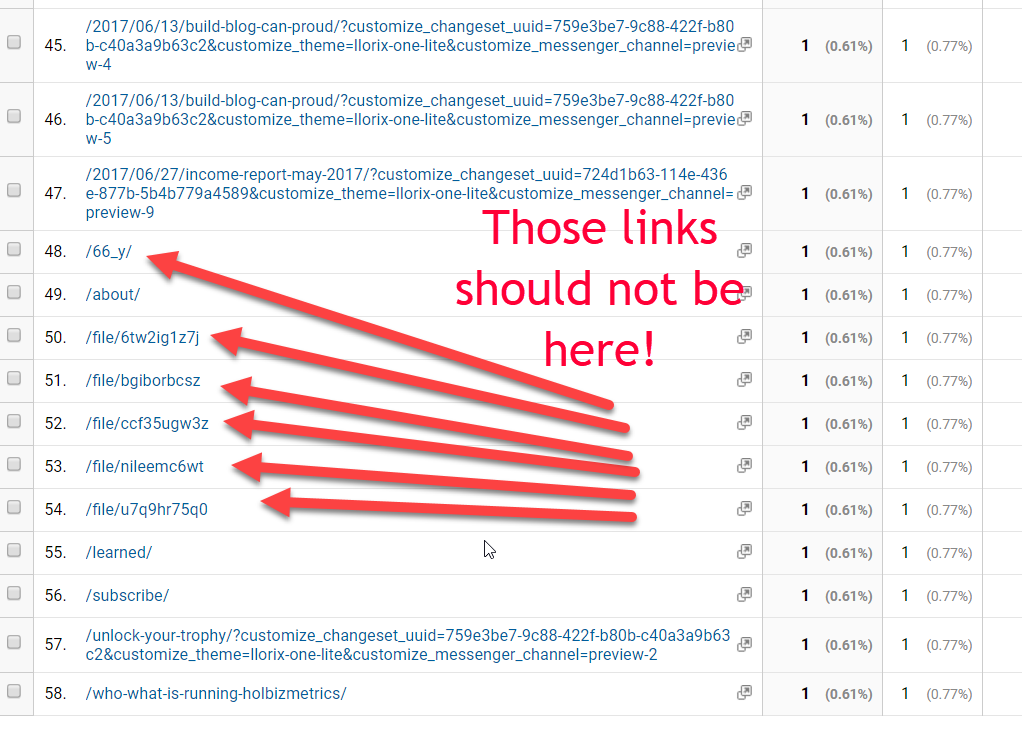 Here are some links (see where the red arrows are pointing) that I don't want to be indexed at all.
How do we make their content visible? Easy. Just copy the link from Google Analytics and insert your domain name at the front.
If your blog would be bestbloggingmomintheworld.com and you want to see if the subscribe URL is correct (in the pic it is indexed by number 56) you would just want to write: bestbloggingmomintheworld.com/subscribe/
For my site instead, it is: https://holbizmetrics.de/subscribe/
But Analytics makes it even easier for us, just press the little icon that is aligned at the right side in this column: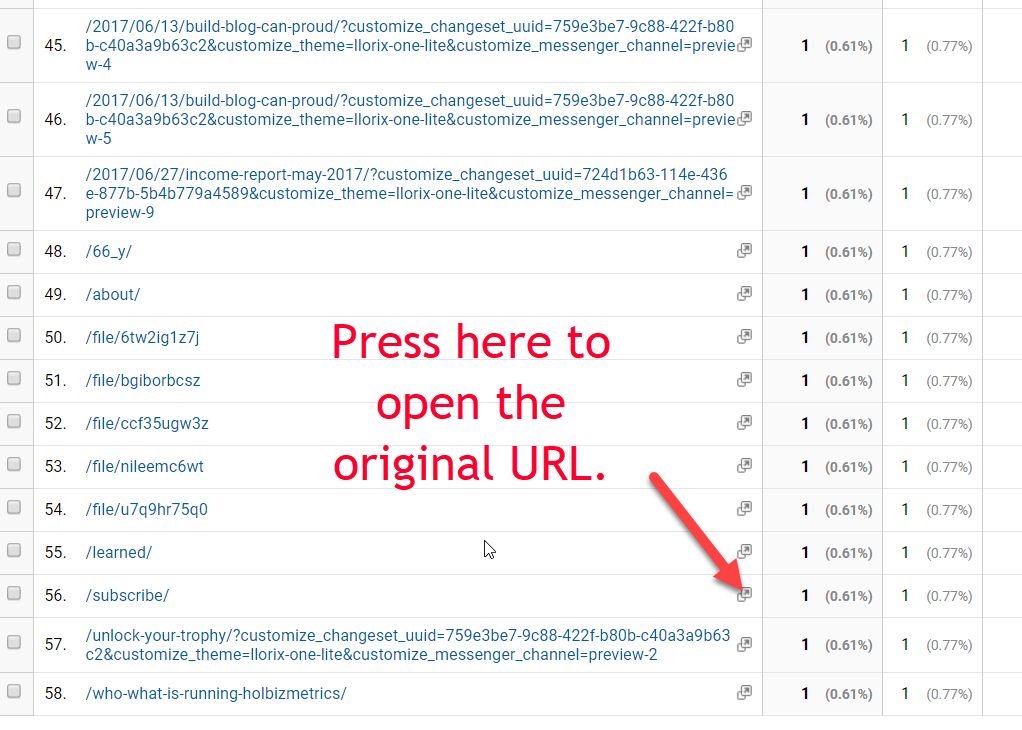 So if you've enabled your CMS login you can easily edit your page or blog post title by clicking on the icon.
If you know about copywriting this knowledge helps here big time to create more enticing headlines.

Using SEMRush and Quillengage
Here we can see that this article, for instance, has a much better click-through rate, that's what you want to see there.
And I know learning Google Analytics can be a real pain too.
Therefore we'll make use of SEMRush (click the link to use SEMRush, register for the free version) to get a more detailed overview and Quillengage, to translate the data in an immediately human readable report. Quillengage is free for our purposes for up to 10 websites.
Therefore we will now get a weekly report of Quillengage as well as two monthly reports,
one also of Quillengage
the other one of SEMRush.
That tells us way more without having to search every property of Google Analytics and translate it into natural language.
It's way better and easier to consider the data generated by the tool.
If you'd like to see a further example just look at one of my previous income reports. There you can see the data that Quillengage created.
I've integrated an example right here as well.
(Just scroll further down if you'd like to go on, search for the next horizontal divider. And read on "Spy on your competitors")
Begin of included Quillengage report
---
Web Site Data
MONTH OF JUNE 2017
Pageviews
966
+47% 

from last month
Sessions
296
+24% 

from last month
Pages/Session
3.3
+19% 

from last month
Sessions Increase, Far Exceed Average
Sessions were up 24% from the previous month to 296, which is almost double your 149-session average. The rise in traffic was driven by referrals, growing 45% to 207 sessions.
Last month, your site's total page views increased 47% to 966. Similarly, your pages per session rose 19% to 3.3, which is close to your average across all available months.

Last month, Unleash your full potential – Business meets Emotion – No more fear blocking your success had more page views and a higher bounce rate than any of your other most frequently visited pages (17 and 79%, respectively).

Relative to last month, the percentage of total page views from your top ten pages fell to 1%, which suggests users are viewing a wider variety of pages on your site.
Sessions Up From Prior Month
Traffic Sources
Organic search made up 11% of your site's traffic with 33 sessions, which is down from one month earlier when 46 sessions came from organic search (accounting for 19% of your site's traffic overall). Direct sessions were up to 56 from 49 last month and accounted for 19% of your site's total traffic. A month before May, direct traffic made up 21% of total sessions.
New Referrals
These are the top referrers that started sending you traffic last month for the first time in all available months.
semrush.com… and goo.gl… were the new referrers that drove the most traffic last month with 23 sessions and ten sessions, respectively.
Note that for referral sessions with an average time on site of zero, there was likely only one pageview, so Google Analytics was unable to calculate an average session duration.
New vs. Returning Users
Although new sessions rose to 152, they accounted for a smaller proportion of total sessions (51%). Perhaps new users were less engaged with your site compared to returning users last month, as their 57% bounce rate was higher than returning users' bounce rate of 40%.
Traffic By Device
Though mobile and desktop sessions grew, sessions from tablet users decreased. The most traffic came from desktop, the top driver of traffic from the previous month as well. After a 17% rise compared to last month, 209 sessions came from desktop users. Traffic from mobile users increased 53% to 84 sessions. Tablet traffic fell 25% to three sessions.
Locations
The United States was the country with the largest gain in traffic, rising 107% to 60 sessions last month. New York drove the country's growth with a 267% increase to 11 sessions. New Jersey and Texas dropped out of the top ten regions by sessions last month. Each slipped from eighth to 42nd and seventh to 33rd, respectively.
Paid Search
You have paid search set up, but there was not enough activity in recent months to report on. You can learn more about Google AdWords here.
---
End of included Quillengage Report
This is a real help to see what's going on in natural language and might ask answer questions you've asked yourself but didn't find the answer yet. Now you can.
Spy on your Competitors
but learn to spy on yourself as well.
Another very useful resource that's often neglected is:
Google Search commands that you can just input into the textbox when searching google.
The default is that the words are seen as an and.
Learn the Google Search Commands to find more relevant information:
For instance, if you input:
wide belt
it is treated as if you had input wide AND belt.
If you'd like to search for the exact phrase you can put it into quotes:
"wide belt"
But if you're a fashion addict, you might run into a little bit of trouble. Because you get a lot of machines indicated, too.
Because of
wide belt sander
also exists as a search term, which we don't want in that particular case.
And therefore we got to remove sander.
Again:
"wide belt" -sander
Now we've just subtracted the sander word from the search results.
What most people don't know, here's a little hint:
Use the search term twice.
like this:
wide belt wide belt -sander(click the link to see the result)
or like this:
"wide belt" "wide belt" -sander (click the link to see the result)
cache:yoursitename.com – will show you the page like it's in Google's cache while the original page may have already changed.
related:yoursitename.com – will show the pages that are similar to the given page.
site:www.copyblogger.com
filetype:pdf – will only search for pdfs while excluding all other file types.
Or we could also combine them:
site:www.copyblogger.com filetype:pdf
Now, this should give you all pdfs of Copyblogger's pages that are indexed in Google.
Use BuiltWith
Use BuiltWith to see what cms, cdn and all other stuff like WordPress plugins or widgets they use,
it's also good to find new ad network resources, just spy at the most successful blog sites that have ads.
For now, let's do this to my other site, deep-trust:
What does builtwith deliver? Just click the link:
I've just included a little part of what builtwith can output: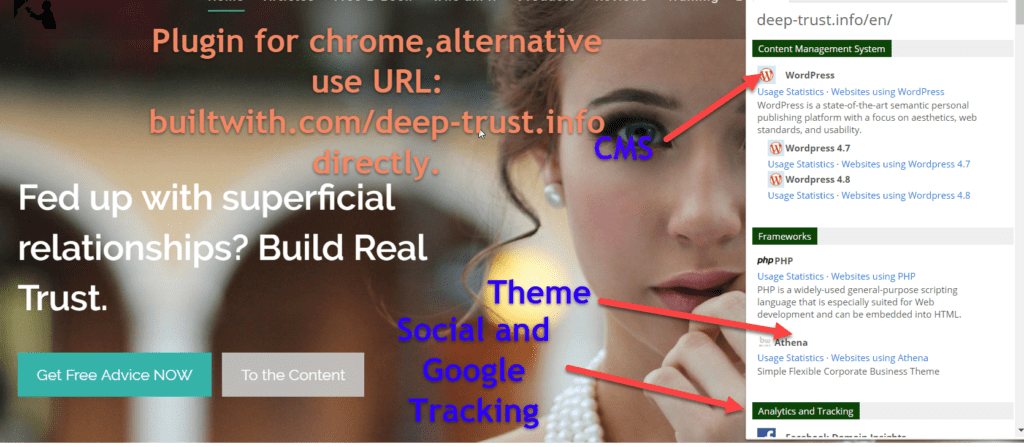 ---
___